The Hobbit chased off by Chainsaw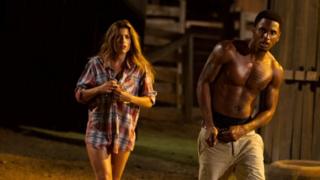 Horror film Texas Chainsaw 3D has unexpectedly topped the US box office, ending The Hobbit's three-week reign.
The movie, set immediately after the events in Tobe Hooper's classic 1974 slasher picture, made $23m (£14.3m) in its opening weekend.
It immediately made back its $20m budget for film company Lionsgate.
Quentin Tarantino's Django Unchained held firm at number two, making $20.1m, while The Hobbit: An Unexpected Journey slipped to number three.
Peter Jackson's return to Middle Earth has so far taken $263.8m (£164m) in the US, and about $825m (£514m) globally,
Fourth place went to musical adaptation Les Miserables, starring Hugh Jackman and Anne Hathaway. It has now passed the $100m mark, the first musical movie to do so in under 14 days.
And fifth position went to Billy Crystal's big screen comeback Parental Guidance, about an elderly couple left in charge of their grandchildren.
Banned classic
Texas Chainsaw 3D is the seventh film in the horror franchise, featuring an antagonist called Leatherface, who wears a mask made of human skin. The character was reportedly based on serial killer Ed Gein, who also inspired Alfred Hitchcock's Psycho.
The original was refused a certificate by the British Board of Film Classification in 1975, which felt its focus on sadistic terror and "abnormal psychology" was unsuitable - although some local councils allowed it to be shown with an X certificate.
It was released on video in 1981, at a time when videos did not have to receive a formal classification, and remained on shelves until the introduction of the Video Recordings Act 1984.
However, the film is now freely available, having been granted at 18 certificate in 1999, and subsequently shown uncut on television.
The audience for the new instalment was predominantly under-25, meaning they were too young to have seen the original first time around.
The major draw was said to be singer-songwriter Trey Songz, who stars in the film alongside Alexandra Daddario and Dan Yeager.
Lower down the charts, Matt Damon's gas-fracking drama Promised Land had a slow start, debuting at number 10 with $4.3m after opening in limited release a week earlier.
And Kathryn Bigelow's hotly-tipped CIA drama Zero Dark Thirty continued to dominate specialist cinemas, making $2.75 million from a meagre 60 screens.
The latest US box office figures come as it was reported that 2012 was a record year for US cinema.
Total ticket sales for the year reached $10.8 billion (£6.7bn), with a 6% rise in admissions - the largest in more than a decade - reported film trade newspaper Variety.