Daphne Oxenford, voice of Listen With Mother, dies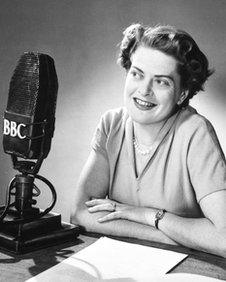 Radio presenter and actress Daphne Oxenford has died at the age of 93.
Known to millions as the voice of Listen With Mother, Oxenford would open each programme by asking: "Are you sitting comfortably? Then I'll begin."
She was also one of the original cast members of Coronation Street, playing Esther Hayes, and was a cast member of Midsomer Murders until 2008.
Oxenford died on 21 December, her family told the BBC. "We were so proud of her," said daughter Kate Bradley.
"She touched so many people through her life," she continued, acknowledging "the amount of children anywhere, everywhere, who grew up devoted to that 15 minutes of Listen With Mother."
Listen With Mother began in 1950 and consisted of stories, songs and nursery rhymes for children under the age of five.
It began at 1:45pm every weekday, to coincide with the end of children's lunchtime meal. At its peak, it had an audience of more than a million.
Oxenford narrated the programme from 1950 to 1971, and her meticulously modulated opening phrase was eventually included in the Oxford dictionary of quotations.
But regular listeners also recall the words that would precede her arrival: "And when the music stops Daphne Oxenford will be here to tell you a story".
Born in Barnet, London in 1919, Oxenford made her stage debut aged 13, and went on to train at the Embassy School of Acting in Swiss Cottage.
She joined Ensa, the armed forces' entertainment body, at the end of World War II and toured Britain and Germany playing in revues.
Her big break came in 1947, when she went to give a friend moral support at an audition, only to be dragged onto the stage herself, where she performed for music hall star Joyce Grenfell.
"I did a schoolgirl sketch," she told the Theatre Archive in 2005, "and I wasn't aware that people [were] sitting in the audience watching the audition.
"Miss Grenfell rather rose to her height and she sent someone to ask where I had got that material. I said I wrote it for this little revue. So then I had to go for a music audition [and] somehow I was in!"
She married David Marshall in 1951 and moved to Manchester, where she appeared in local theatres, including the Library Theatre and the Royal Exchange, while making weekly trips to London to record Listen With Mother.
In 1960, she was cast in the role of 36-year-old stay-at-home spinster Esther Hayes in Coronation Street.
Making her debut in the second episode, Esther was a carer for her bed-ridden mother, and kept an eye out for the street's younger characters, including Christine Hardman, Ken Barlow and Lucille Hewitt.
Never a pivotal character, she left the series in 1963, but made frequent returns for weddings and funerals.
Oxenford continued to appear on television throughout her career, often taking supporting or cameo roles. She appeared in Heartbeat, The Sweeney and Man About The House, and played village shop-owner Mrs Patterson in 1970s sitcom To The Manor Born.
She was also one of the voice-over artists on Granada TV's irreverent What The Papers Say, a weekly review of the best and worst offerings from the press.
And she forged a long partnership with comedian Les Dawson, appearing as his comic foil both on the TV sketch show The Dawson Watch and the Radio 2 series, Listen to Les.
After her husband died in 2003, Oxenford moved to Denville Hall, a retirement home for actors, in Northwood, Middlesex.
The actress continued to work until 2008, filming her last role alongside David Tennant in the Doctor Who episode The Unicorn and the Wasp. Oxenford played an elderly Dame Agatha Christie, but her scenes were cut from the episode as broadcast (they were later released on DVD).
She is survived by her two daughters, Kate and Sophie, and two grandsons.