Adele tops US chart again in 2012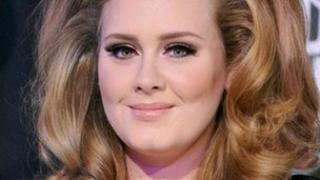 Adele's award-winning album 21 has been named the biggest-selling record in the US for the second year in a row.
The album, which spawned hits including Rolling in the Deep and Someone Like You, sold 4.4 million copies in 2012 after shifting 5.8 million in 2011.
It is the first time one album has topped the sales chart for two years in a row since Nielsen Soundscan began tracking US album sales in 1991.
Four of the year's top five best-selling albums were by British artists.
Former X Factor contestants One Direction's 2011 debut album Up All Night was at three, while their follow-up, Take Me Home, was at five.
Babel by British folk rockers Mumford and Sons was the fourth best-selling album of the year.
Taylor Swift was the lone US artist in the top five with her fourth studio album Red. The record was the second best-seller of the year, selling 3.1 million copies in just over two months.
Keith Caulfield, associate director of charts at Billboard magazine, said Adele's success was due to the "right combination of artistry and hit singles".
"It's a sort of a once-in-a-lifetime album - only a few of these albums come along in history," he said.
"She really crossed over from pop to Latin to adult contemporary to dance. Young and old consumers bought it, and because of its mixture of fans, she was able to sell it as well as she did."
Adele's success came despite a drop in overall US album sales by 4% to 316 million.
However, digital song sales rose 5% to a record high of 1.3 billion downloads.
Gotye's Somebody That I Used To Know was the year's top-selling song after being downloaded 6.8 million times. Carly Rae Jepsen's Call Me Maybe was second with 6.5 million.
Those songs were the first to ever cross the six million digital sales mark.
Katy Perry received the most radio airplay for the second year in a row, with 1.4 million spins, while Swift was the most streamed artist with 216 million streams.