BBC 'missed out' on Yes, Prime Minister comeback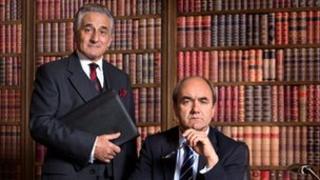 The new series of Yes, Prime Minister was made for a rival channel because the BBC asked its creators to make a pilot episode, it has emerged.
Co-writer Jonathan Lynn said the BBC had been given first refusal on the revival out of "courtesy", because it aired the award-winning original.
But he called the request for a test episode "extraordinary", as "there were 38 pilots available on DVD".
The first new episodes for 25 years will be aired on digital channel Gold.
Lynn told comedy website Chortle that the BBC "said it was policy" to order a pilot episode before commissioning a full series.
"So we said our policy was to not write a pilot."
In response, the BBC said: "Yes Prime Minister was last on air 25 years ago so it would not be unusual to ask for a pilot as clearly a lot of the elements, including the cast, would be different.
"UKTV was involved in the initiation and development of the project; the BBC decided not to broadcast a new series as it was felt a better use of resources to invest in new comedy, for example Mrs Brown's Boys and Miranda."
Ironically, the BBC's in-house entertainment team was later commissioned to produce the new series by Gold.
Bafta-winner
Yes, Minister and its sequel Yes, Prime Minister were both written and created by Lynn and Antony Jay, with the first episode broadcast in 1980.
They portrayed the struggle between Paul Eddington, as Jim Hacker MP, and Nigel Hawthorne as his permanent secretary.
Labour MP and ex-minister Gerald Kaufman once described the tales of double-dealing Whitehall mandarins and hapless politicians as "chillingly accurate". It was also said to be Baroness Thatcher's favourite television programme.
The new series was filmed last summer and is based on a recent stage production, which launched in 2010.
Digital network Gold - part-owned by BBC Worldwide, the BBC's commercial arm - said the Rt Hon Jim Hacker would return as the leader of a coalition government, with plots focussing on the economic crisis, a leadership crisis with his coalition partners and a Scottish independence referendum.
David Haig will take the lead role, with Henry Goodman as Sir Humphrey. Both have appeared in the stage version of the show.
They will be joined by Dame Maggie Smith's son, Chris Larkin, as Bernard Woolley, and Robbie Coltrane as a guest star.