Cartoonist Jacques Tardi refuses Legion D'Honneur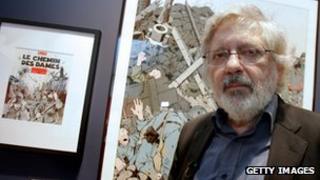 Jacques Tardi, one of France's most famous cartoonists, has turned down the country's highest civilian honour.
Tardi, who created the Adele Blanc-Sec series, was named among the recipients of the Legion d'honneur on 1 January.
"Being fiercely attached to my freedom of thought and creativity, I do not want to receive anything, neither from this government or from any other political power whatsoever," he said.
"I am therefore refusing this medal with the greatest determination."
Tardi, who is also known for works about the horrors of World Wars I and II, inspired by the experiences of his grandfather and father, said he had always ridiculed institutions.
He is also known for his adaptations of Leo Malet's stories about the detective Nestor Burma and Tardi's heroine Adele Blanc-Sec made it to the big screen in 2010 in a film directed by Luc Besson.