The Hobbit holds on to box office crown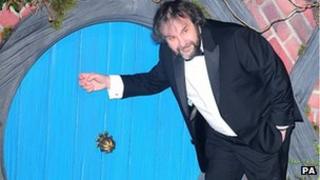 The Hobbit: An Unexpected Journey has topped the North American box office for the third weekend in a row.
The prequel to Lord of The Rings took $32.9m (£20.3m) over the weekend, dwarfing new releases Les Miserables and Django Unchained.
Director Quentin Tarantino's western Django Unchained came in second with $30.7m (£18.9m).
Star-studded musical Les Miserables, directed by Tom Hooper, was third, taking $28m (£17.3m).
Universal's president for domestic distribution, Nikki Rocco, described the musical's takings as "phenomenal, especially considering we went into the weekend with $40m (£24.7m)".
"People really love this movie, which is even more rewarding and gratifying," Nikki Rocco said.
Les Miserables surged past The Hobbit with $18.1m (£11.2m) on its opening on Christmas Day.
But Peter Jackson's return to Middle Earth is in its third week of release and has now grossed $222.7m (£137.3m) in North America.
The Hobbit outperformed the US debut of The Lord of the Rings: The Return of the King, Peter Jackson's previous best opening in December 2003.
Elsewhere, comedy Parental Guidance, starring Billy Crystal and Bette Midler as grandparents, was fourth with $14.8m (£9.2m).
Tom Cruise's crime drama Jack Reacher, which sees him playing a former military investigator solving a fatal sniper attack, landed in fifth with $14m (£8.7m).
Judd Apatow's This is 40, starring Paul Rudd and Leslie Mann as a middle-aged couple, was sixth with $13.2m (£8.2m).
The movie cost $35m (£21.6m) to produce and has so far taken $37m (£22.8m) after two weeks.
The seventh spot went to Steven Spielberg's historical film Lincoln with $7.5m (£4.6m). It has now made $132m (£81.6) in total domestically.
A rush of high-profile films in December is expected to push 2012 to a domestic box office record.
The current record is $10.6bn, set in 2009.
Meanwhile, James Bond's Skyfall has now topped the $1bn (£618.2m) mark internationally.
Sony Pictures say it is the most successful James Bond film yet in the 50-year franchise.