Elvis and Beatles signatures are the most-forged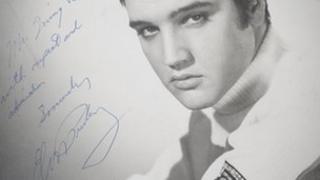 Elvis Presley and The Beatles have topped a list of most-forged celebrity signatures for a second time.
Memorabilia authentication service PSA/DNA said less than half of their autographs were certified as genuine.
Forged signatures by American astronaut Neil Armstrong, who died in July and rarely signed for fans, rose significantly, putting him third.
Former US President John F Kennedy and Michael Jackson were also on the list.
Joe Orlando, president of Newport Beach-based PSA/DNA which compiles the list every two years, said that Armstrong, the first man to walk on the moon, knew the value of his own autograph.
"Even before he passed away he was very tough to get...It really heightens the level of his market," said Mr Orlando.
More fakes
Margaret Barrett, director of entertainment and music memorabilia at Heritage Auctions in Los Angeles, said: "A lot of times people stumble upon an old box of signed photographs in grandma's attic and don't know they're forged."
She added that it was common for children to write to the film studios when there was no financial gain 50 years ago, so more fake signatures are in the marketplace as a result of secretaries and assistants responding to fan mail rather then the stars themselves.
Now people can make a lot of money from genuine autographs or signed memorabilia.
Official documents including contracts are used as reliable sources to verify whether an autograph is genuine or fake and its value can vary, down to the smallest of details including which way the letters slope and additional wording.
Despite their immense fame, Beatles signatures - particularly a set of all four - are relatively rare. However, ironically, autographs from their early years are much more common, and therefore less desirable to collectors.
"Between 1967 and 1970 they were hardly ever together, so unless you were in their inner circle, there is no way you would get their signatures," Stephanie Connell, director of entertainments memorabilia at Bonhams in London, told Reuters.