Ben Affleck rules out Senate role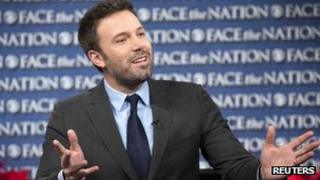 Actor Ben Affleck says he will not run for the US Senate, after speculation he would stand for a seat in Massachusetts.
He had been rumoured as a replacement for Senator John Kerry, who has been nominated by President Obama to replace Hilary Clinton as Secretary of State.
But the Good Will Hunting star denied the rumours on his Facebook page.
"I love Massachusetts and our political process, but I am not running for office," the 40-year-old wrote.
"We are about to get a great Secretary of State and there are some phenomenal candidates in Massachusetts for his Senate seat. I look forward to an amazing campaign."
Affleck, who was raised in Cambridge, Massachusetts, has frequently featured the state in his films.
He won an Oscar for co-writing Good Will Hunting, which used the Massachusetts' Institute of Technology and Harvard University as its backdrops.
Other more recent directorial efforts The Town and Gone Baby Gone have both been set in Boston.
The rumours of his candidacy for Senate gained some traction last weekend, when he appeared on CBS political programme Face The Nation.
Asked whether he intended to stand, the actor appeared not to rule out the possibility, saying he had a "great fondness and admiration for the political process," but would not "get into speculation" about his ambitions.
However, he added, he was "really happy being involved from the outside in government", having recently testified before the House Armed Services Committee on the conflict in Congo.
In his Facebook statement, Affleck added he would continue his work with the Eastern Congo Initiative, a non-profit organization that helps direct humanitarian aid to the war-torn region, and would continue to use his "filmmaking to entertain and foster discussion about issues, like our relationship to Iran".
The star's latest film, Argo, which tells the real-life story of the 1979 hostage crisis in Iran, is heavily-tipped for the 2013 Oscars.
It has earned him a Golden Globe nomination as a director, while the film has also been nominated.
Affleck will also star alongside Justin Timberlake and British actress Gemma Arterton in gambling thriller Runner Runner next year.