The Avengers leads upturn in US cinema ticket sales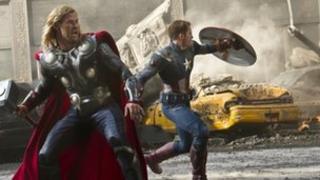 Cinema attendance in the US has risen for the first time in three years, bucking a trend of declining audiences.
While takings hit a record $10.8bn (£6.69bn) in 2012, according to box office tracker Hollywood.com, this growth can largely be attributed to inflation and rising ticket prices.
But a projected 5.6% rise in ticket sales have proved cinema's enduring draw.
The Avengers was the biggest hitter, taking $623m (£385.5m) in the US.
This was followed by Batman: The Dark Knight Rises, which took $448m (£277.1m), and James Bond film Skyfall, which is continuing to attract audiences.
Ticket sales hit their modern day peak in 2002, when 1.6 billion tickets were sold for films including The Two Towers, the second film in the Lord of the Rings franchise, and director Sam Raimi's reboot of Spider-Man, starring Tobey Maguire.
There was a general feeling in the industry that with the growing sophistication of home cinema systems and the rise in digital devices, cinema audiences would continue to dwindle
"It's a victory, ultimately," said Don Harris, head of distribution at Paramount Pictures.
"If we deliver the product as an industry that people want, they will get out there. Even though you can sit at home and watch something on your large screen in high-definition, people want to get out."
Hollywood recorded its previous record year in 2009, with revenue topping $10.6bn (£6.5bn). The following two years showed a fall in sales, with receipts falling to $10.2bn (£6.3bn) last year.
The Avengers achieved the US's biggest opening weekend ever when it was released in May, with takings of $207.4m (£128.3m).
The Joss Whedon-directed action film also proved to be an international hit, with $1.5bn (£927m) taken around the world.
'Effective marketing'
Les Miserables' Christmas Day opening has also helped end the year's box office end on a high.
The musical, starring Hugh Jackman and Anne Hathaway, took $18.2m (£11.2m) when it opened on Tuesday, making it the most successful weekday Christmas premiere.
International box office takings for the year have been predicted to be about $23bn (£14.2bn), by global analysts Rentrak, a rise of 3%.
Other big blockbusters of the year included The Hunger Games, Breaking Dawn - Part Two, the final instalment in the Twilight Saga franchise, and Ice Age 4.
Paul Dergarabedian of Hollywood.com puts the successful year down to a number of factors, including efficient marketing to target audiences.
"It was not just the fact that most of the movies delivered, it was the timing of their release dates and the marketing was obviously effective as well with social media continuing to provide an outlet for the movie-going peer group to talk about their favourite flicks," he said.