Royal Mail reveals Doctor Who stamps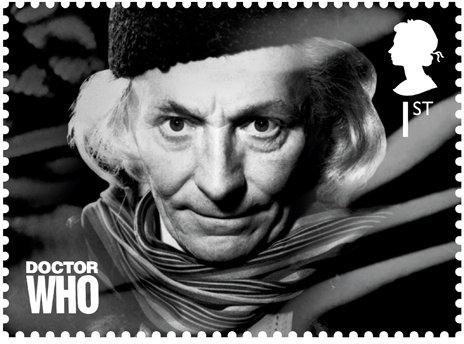 Tom Baker, David Tennant and Patrick Troughton are to feature on a special set of Royal Mail stamps in 2013.
The collection marks the 50th anniversary of sci-fi show Doctor Who, with all 11 Doctors getting their own first class stamp.
Four of the show's most notorious villains, including the Daleks and the Cybermen, star on the second class set.
The show first ran from 1963 to 1989. A successful revival returned it to Saturday night schedules in 2005.
Andrew Hammond of the Royal Mail said the commemorative selection "pay tribute to the brilliant actors that have played the Doctor over the years, as well as the adversaries that helped make the show so popular".
The time travelling adventurer is currently played by Matt Smith.
Joining him for the 50th anniversary year is new co-star Jenna-Louise Coleman, who played Clara in the Christmas Day episode, and will be the Doctor's new companion in the 2013 series.
The show's head writer, Steven Moffat, has promised "tremendous surprises" for the golden anniversary, but says he will be keeping them under wraps.
"They wouldn't be surprises if I accidentally said them now, would they?" he said at a preview screening of the Christmas episode.
"But I promise you, we're going to take over television," he added.
The writer has even kept the secrets safe from his leading man.
"We're as much in the dark as the majority of other people," Smith told BBC Radio 1. "I imagine I'll get to read something in January, February time."
However, the actor promised: "We'll make it the biggest and the best year, hopefully in the show's history."
The Royal Mail stamps will be available in March.
Related Internet Links
The BBC is not responsible for the content of external sites.