Strictly Come Dancing: Stars battle injury for final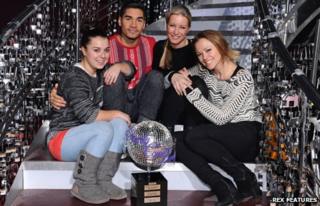 Dislocated bones, bad backs and dodgy knees are the reward for this year's Strictly Come Dancing contestants as they head to the final.
Denise Van Outen dislocated a rib during rehearsals this week, while gymnast Louis Smith says he will need a knee operation after the contest ends.
"That'll be the Cuban heels," he joked at a press conference on Friday.
Kimberley Walsh and Dani Harmer are also in the final, which is broadcast from 1830 GMT on BBC One on Saturday.
Girls Aloud star Walsh also dislocated a rib in preparations for the semi-final.
"When you've got to do anything that stretches, it's like you've been winded," she said. "So laughing, coughing, sneezing anything. very painful."
Smith, who is the bookmakers' favourite to lift the glitterball trophy, said his biggest worry was "doing my back in and just collapsing on the floor on live TV. Not being able to move, with the music still going."
Harmer, however, said she was "in perfect health" going into the final.
Despite the injuries, the celebrity contestants are in high spirits - with a slightly hysterical end-of-term atmosphere infecting the backstage area.
The stars spent Friday morning watching each other rehearse. A fumbled routine by Harmer and her professional dance partner Vincent Simone proves to be the source of much hilarity.
"A lift went wrong," says Simone, "in the right way."
Pressed for details, Walsh explains: "The way they're supposed to end the routine is the normal version, and they ended slightly x-rated."
"It'll be alright on the night. If not, we'll style it out," adds Harmer.
"It'll be ok, right?" laughs Simone. "If I end up on top of her, it's a happy ending."
Smith, meanwhile, is being cajoled by his competitors for not wearing a shirt during his showdance.
"The music's quite contemporary and the dance is quite a contemporary dance," he protests.
"It doesn't make sense to do it in baggy trousers and shoes, so we've gone with tight trousers... And it doesn't make sense to have a top on, as well."
The female competitors insist they will remain fully clothed, but Pasha Kovalev, who is partnering Walsh, observes: "The girls as usual, they all have short dresses. Skinny, tight. Nothing is hidden."
"We're all a bit delirious," says Walsh.
'Less pressure'
Saturday's final will see all four couples perform a showdance and a repeat of one of their earlier routines, chosen by the judges.
The show takes a break for an hour at between 1950 GMT. When it returns, one contestant will be eliminated, and the remaining three contestants will be allowed to perform their favourite dance from the show's 14-week run.
Van Outen believes she will be the one to go out early, having been "in the bottom two for two weeks".
But, she maintains, that means "less pressure" on the final.
"We've got nothing to lose," she says. "We know what it feels like to be almost walking home. I've already pre-booked my cab."
But, by this point, the four finalists do not seem too worried about who will be crowned Strictly Champion for 2013.
"I'm not that fussed," says Harmer. "I just want to go out there on Saturday and have fun and dance with my little Vincent for the last time."
"What will be will be," adds Walsh. "It really doesn't matter at this point."
And what will they do when it all ends on Monday? Smith has the answer.
"Go and see a shrink."