Remembering Joe Strummer 10 years on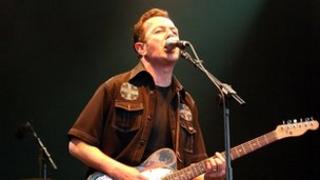 In the early hours of the 23 December 2002 , I took a call telling me that Joe Strummer had died. After the conversation, I lay in bed for a while not quite believing what I'd heard.
I didn't have a reliable internet connection or any other way of confirming the news and it wasn't reported in the early bulletins that morning. Arriving earlier than usual at the 6Music offices I logged onto his website where a picture was captioned "Joe Strummer 1952-2002".
Much of that day on 6Music was punctuated by various guests talking about his legacy. Contributors included Jake Burns who formed his band Stiff Little Fingers in March 1977, some months before The Clash played in his native Belfast.
"The Clash's big influence on us was showing us there was more to punk rock than the initial 'shock value'. It was thanks to them we saw the direction we could and should take," said Burns.
Of course this influence wasn't just down to Joe Strummer. Each band of which he was a part - the 101ers, The Clash, the Mescaleros - was fuelled by and reliant upon the input from each band member and the chemistry between them.
But Joe Strummer was central to these bands. In the middle of the stage, taking lead vocal on most of the songs, leg pumping up and down, hammering the life out of his Telecaster.
Key legacy
The Clash left a huge legacy in terms of the groups and musicians that they influenced. Every time I try to name them I end up with a huge list which includes Manic Street Preachers, U2, Moby, Aztec Camera, Green Day, Public Enemy and Billy Bragg.
You can't always necessarily hear The Clash's music in those artists but the key legacy for any band is in the ability to inspire others to make music or indeed to start a band in the first place. Strummer sang about being in a "Garageband" and has undoubtedly motivated many thousands of others to do the follow the same path.
It's important to realise what a musical magpie he was. Influences, ideas, lyrical and musical phrases were harvested from many sources and from many different genres of music. Running through the bands of which he was a part you can hear blues, reggae, ska, rap, rock and roll, African beats, Balkan beats, you name it.
Not all of those influences were down to Joe in particular but if any upcoming band or musician can listen to his music and then endeavour to be as curious and as musically open-minded as he was then that's another huge part of his legacy.
As well as their music, The Clash also had the swagger which inspired bands. The Redskins said they wanted to sing like the Supremes and walk like The Clash.
And Billy Bragg told the NME in 1984: "When a folk club artist goes out with his guitar, he might think he's James Taylor or Bob Dylan. When I go out, I still think I'm The Clash."
Politics has always been an important part of Bragg's approach to music and he took his lead from Joe Strummer.
"[He] was the driving force who helped give punk its political edge," Bragg told the BBC in 2002.
"I have a great admiration for the man. His most recent records are as political and edgy as anything he did with The Clash. His take on multi-cultural Britain in the 21st Century is far ahead of anybody else. "
Strummer's legacy has been underpinned since his death by Strummerville - the Joe Strummer Foundation for New Music. The registered charity seeks to offer support and resources, such as performance and rehearsal spaces, to musicians who would not normally have such access.
'Sprawling masterpiece'
There are other celebrations of his life though, such as from the Canadian Radio station which plays nothing but his music each year on 22 December. Meanwhile in the UK, Class 47 Locomotive 47828 was renamed the Joe Strummer in 2005.
Most of all though, people still listen to his records.
Personally, I would recommend all of the Clash's output up to and including This is England.
Sandinista will always be my favourite - a sprawling masterpiece. Then there's his wonderful soundtrack for the Alex Cox movie Walker and his somewhat overlooked solo LP Earthquake Weather.
Added to these are the records he made with the Mescaleros. One comfort that can be drawn from his passing at such an early age is that he did so shortly after making some of the best recordings of his life.
On inheriting my old portable listening device, my seven-year-old son asked me to teach him the words to Safe European Home by The Clash.
I think we can be sure that Strummer's music will live on long after we've gone.