Ravi Shankar mourned at US memorial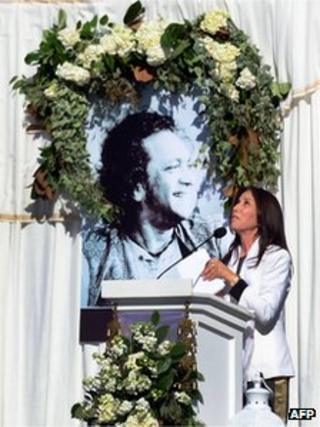 Fans and celebrities have paid tribute to Indian sitar maestro Ravi Shankar at a memorial near his home in California.
Former Beatle George Harrison's widow spoke at the event and tributes from singer Peter Gabriel and film director Martin Scorsese were read out.
Shankar died in a US hospital aged 92, after failing to recover from surgery earlier this month.
He gained widespread international recognition through his association with The Beatles.
George Harrison once called Shankar "the godfather of world music".
Shankar played at Woodstock and the 1967 Monterey Pop festival, and also collaborated with violinist Yehudi Menuhin and jazz saxophonist John Coltrane.
'True master'
Olivia Harrison said her late husband had learned much from his friendship with Shankar.
"They were like father and son as well as brothers... they made each other laugh as if they shared a secret. And I'm sure they did," she was quoted as saying by the AFP news agency.
She said Shankar "laid the stepping stones from West to East, that led George to new concepts, alternative philosophies and completely transformed his musical sensibilities".
"They exchanged ideas and melodies until their minds and hearts, East and West, were entwined, like a double helix."
Peter Gabriel said Shankar had "opened the door to non-Western music for millions of people around the world".
Martin Scorsese said Shankar's music was "ancient and immediate, impassioned and meditative, full of sorrow and joy".
"He was a true master."
Shankar's daughters, sitar player Anoushka Shankar and Grammy-winning singer Norah Jones, also paid tributes at the service held at a meditation centre in Encinitas, where the sitar star had a home.