Pussy Riot protest aimed at career boost, claims conductor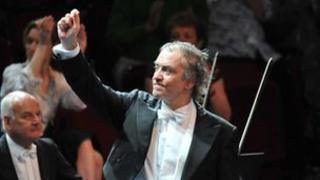 A leading Russian conductor has claimed Pussy Riot's musical protest against Vladimir Putin was a publicity stunt.
The feminist punk band sang a crude anti-Putin song in Moscow's main cathedral in February, shocking the Orthodox Church.
Two members were then jailed, becoming a cause celebre amongst musicians including Madonna and Yoko Ono.
Valery Gergiev of the London Symphony Orchestra told The Independent it had nothing "to do with artistic freedom."
He alleged that Pussy Riot, who have not released any conventional albums but have several songs online available for download, wanted to boost their careers by creating controversy.
"Why go to the Cathedral of Christ to make a political statement?," he said. "Why with screaming and dancing? You don't need to go to a place that is considered sacred by many people."
Mr Gergiev, aged 59, added: "I am told by too many people that those girls are potentially a very good business proposition. Suppose that someone created all this in order to produce another touring group earning millions and millions?"
He added that acclaimed Russian soprano Anna Netrebko "didn't need to do something like this".
Pussy Riot's Nadezhda Tolokonnikova and Mariya Alyokhina were jailed for "hooliganism motivated by religious hatred" in February.
They have since been moved to separate penal colonies. Alyokhina, aged 24, is serving her sentence in the Ural Mountains at Corrective Labour Colony No. 28, which she recently described in Russian magazine The New Times as a "dead world".
The Who's Pete Townshend, Madonna and Yoko Ono were among musicians who showed public support for the group.
The Smiths' guitarist Johnny Marr, Martha Wainwright and Neil Tennant of Pet Shop Boys added their signatures to a letter in The Times, which called on president Putin to give the band a fair trial, as he arrived in London for the 2012 Olympics.
Putin said the band had undermined the moral foundations of the nation and deserved their sentences.
Following the events, a Moscow court ruled that websites must remove video clips of the female punk band.
As well as being principal conductor of the London Symphony Orchestra, Mr Gergiev is also general and artistic director of the Mariinsky Theatre in St Petersburg.
A new opera house - known as Mariinsky II - funded by the Russian government, will open in St Petersburg in May 2013.
Gergiev is currently working with Avatar director James Cameron on a 3D broadcast of Swan Lake, which will be screened in cinemas live from the Mariinsky on 14 February, 2013.