Dominic West and Carly Bawden on song in My Fair Lady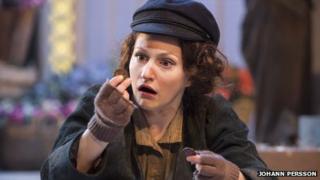 Actor Dominic West has earned glowing reviews for his stage musical debut in My Fair Lady - but the greatest praise was reserved for his co-star Carly Bawden, who plays Eliza Doolittle.
West is playing Professor Higgins in the show at the Sheffield Crucible.
The Times said West "can hold his own with the orchestra" and The Telegraph judged him to be "utterly persuasive".
But The Guardian declared it "Bawden's show", hailing the rising star's "effortless and ecstatic" singing.
"This Eliza means business," the Guardian's critic Lyn Gardner concluded. "Luvverly."
Bawden plays the downtrodden Edwardian flower girl, whom a haughty phonetics professor attempts to pass off as an upper class lady.
The Independent critic Jonathan Brown gave the show a five-star review and praised Bawden's "brilliant all round portrayal" of the street urchin-turned-society belle.
"Bawden's acting, her comic timing, singing, dancing and stage presence were all faultless and earned her - and her more famous main man - a joyous standing ovation on a buzzy, exciting night at the Crucible," he wrote.
A five-star review by Daily Mail critic Quentin Letts concluded: "Great show. A West End run must surely beckon."
West is "not the world's greatest singer and oddly nervous last night", Letts wrote, "but he does radiate a dashing dastardliness".
Of Bawden, he declared hers a "super performance", adding: "She has a sweet, strong singing voice and buckets of heart."
There were also plaudits for director Daniel Evans, with The Times critic Dominic Maxwell describing his production as "quite a flat-out masterpiece".
The role of Eliza was first played by Julie Andrews on stage and was taken by Audrey Hepburn in the Oscar-winning 1964 film version.
The last major UK revival opened in 2001 at the National Theatre in London, starring ex-EastEnders actress Martine McCutcheon.