Skyfall up for five London Film Critics' Circle awards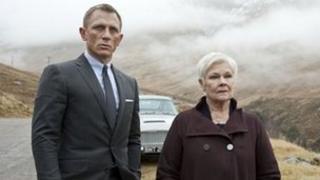 The latest James Bond film Skyfall has been nominated for five awards by the London Film Critics' Circle, with two nominations going to Dame Judi Dench.
The veteran star, who plays 007's boss M, is up for best supporting actress and British actress of the year.
Additional considerations go to Daniel Craig and Javier Bardem, while Skyfall itself is up for best British film.
French title Amour (Love) and US drama The Master lead this year's field with seven nominations apiece.
Amour's nominations include one for film of the year, another for best foreign language film and dual awards for Michael Haneke in the director and screenwriter categories.
The film, which tells of an elderly French couple dealing with infirmity and dementia, also receives acting citations for its octogenarian stars Jean-Louis Trintignant and Emmanuelle Riva.
Amour was nominated for a Golden Globe for best foreign language film last week.
The Master's Paul Thomas Anderson is also recognised in the director and screenwriter categories, with additional nominations going to cast members Joaquin Phoenix, Philip Seymour Hoffman and Amy Adams.
The film tells of a disturbed US seaman who falls under the spell of an enigmatic cult leader in the aftermath of World War II.
The 33rd London Critics' Circle Film Awards will be held at London's May Fair Hotel on 20 January in aid of the charity Missing People.
Helena Bonham Carter, star of A Room with a View, Sweeney Todd and the Harry Potter films, will receive the Circle's highest honour, the Dilys Powell Award for Excellence, at this year's event.
Dame Judi's nomination in the British actress of the year category also recognises her work in ensemble comedy The Best Exotic Marigold Hotel.
A full list of this year's nominations can be found on the Critics' Circle website.