BBC police dramas breach Ofcom rules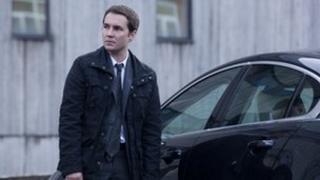 Ofcom has found two BBC police dramas, Good Cop and Line Of Duty, in breach of rules regarding protecting children.
It said more steps should have been taken to protect a 13-year-old child actor in Line of Duty from sexually explicit language and violence.
A violent trailer for Good Cop, aired on BBC One HD before the watershed, was also found in breach.
The watchdog is also currently investigating ITV1's I'm A Celebrity...Get Me Out Of Here!
That investigation relates to an incident where the child of EastEnders star Charlie Brooks appeared in a stunt.
Earlier this month, Ofcom said it was investigating BBC children's show Dick and Dom's Hoopla after a young girl was left retching during an eating challenge.
Following "a number of complaints about children's participation in other programmes which Ofcom has considered recently", the watchdog announced that it was calling a meeting of several broadcasters to discuss the requirements of its code regarding children.
It will also start doing spot checks to ensure broadcasters are complying with the code.
Line of Fire
In Line of Duty, Gregory Piper appeared in scenes in which his character Ryan Pilkington was head-butted and attempted to sever a policeman's finger with pair of bolt-cutters and also a scene where sexually-explicit language was directed at him.
An issue was raised over whether the programme complied with rules of care regarding the physical and emotional welfare of the child and whether unnecessary distress was caused by his involvement in the programme.
The BBC submitted evidence that it had taken several steps before, during and after production to protect the child from distress.
These included being in constant dialogue with the child's parents, who had seen the scripts after Piper auditioned for what would be his first acting role, six weeks after starting drama school.
A children's entertainment licence was obtained, his mother acted as a chaperone and was on set throughout filming, and several months after it finished wrote an account highlighting her son's very positive experience.
But Ofcom found the child had been present during the shooting of a scene in which his character was exposed to sexually explicit language, broadcast on 24 July.
DC Fleming (played by Vicky McClure) was seen using the language during a scene in which Pilkington was interviewed by police.
Distressing language
The BBC said: "It would have been preferable for the contributions from (the child actor) and the character DC Fleming to have been filmed separately to avoid his exposure to the language that was used."
Ofcom also said the broadcaster should have sought an expert opinion from a child counsellor or psychologist on whether it was appropriate for the child actor to participate in scenes, broadcast on 17 July, in which he tries to close bolt-cutters on one of Detective Sergeant Steve Arnott's fingers.
It also said the executive producer should have removed the child actor from the set if possible whenever potentially distressing language was being used.
Regarding the I'm A Celebrity... Get Me Out of Here! case, there were 66 complaints submitted to Ofcom when Brooks and her seven-year-old daughter missed out on seeing each other during a trial.
Brooks, 31, who plays Janine in the BBC One soap, and darts player Eric Bristow had to choose from a selection of doors that had treats behind them in this year's series of the jungle show.
The actress did not know that her daughter, who had not seen her mother for 18 days, was behind one of the doors in the challenge and missed out on the reunion after picking the wrong door.
Scheduling issue
Ofcom also ruled Good Cop, a drama which centres on the murder of a policeman in the line of duty and the revenge which a fellow officer takes against the killers, was in breach of excessive violence shown in a trailer.
Screened on 6 August on BBC One HD during the Olympic Games at about 1840 GMT, the item showed a police officer being violently assaulted by a group of men and having a television dropped on him following a call-out.
Ofcom investigated the material, which was shown to an audience of 29,000 following an eight-minute promotion directing viewers to the BBC regional channel.
It was found in breach of Rule 1.3, which requires that children must be protected by appropriate scheduling from material that is unsuitable for them.
Singing talent programme The X Factor was found not in breach of Ofcom regulations after a Britney Spears impersonator named Lorna Bliss had danced in a fishnet body stocking over a bikini, which had slipped down exposing the bikini top.
Because it was only shown once before the 2100 watershed, no action was taken.