X Factor winner James Arthur scores number one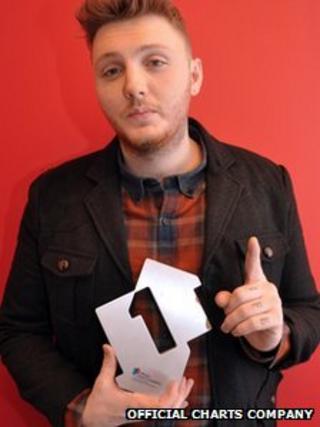 X Factor winner James Arthur has topped the UK singles chart with his debut single, Impossible.
The 24-year-old's cover of Shontelle's 2010 track sold 490,000 copies and has become the fastest-selling single of the year.
Shontelle's original version of the song also re-entered the chart at 22.
Last week's number one, Gabrielle Aplin's cover of Frankie Goes to Hollywood ballad The Power Of Love, fell to four.
Arthur's single is the best first-week sales for an X Factor winner's single since Alexandra Burke's 2008 hit Hallelujah.
In comparison, last year's winners Little Mix sold 210,000 copies of their debut single, Cannonball.
Upon being presented with his Number One award from the Official Charts Company, the singer said: "To everyone from home and around Britain who bought the single, thank you very, very much. You've made my dreams come true.
"My Number One award is going to go on my mantelpiece and I'll probably kiss it for two weeks solid every time I pass it!"
The track will face stiff competition to secure the coveted Christmas number one spot, however.
A celebrity cover version of The Hollies' hit He Ain't Heavy, He's My Brother - featuring the likes of Sir Paul McCartney and Robbie Williams - supporting the families of Liverpool supporters killed in the 1989 Hillsborough disaster, is currently favourite to top the chart.
Elsewhere in the singles chart, Will.i.am's latest track, Scream and Shout, featuring Britney Spears, entered the chart at two.
The other new entries came from Rihanna at six with Stay, Daley and Jessie J collaboration Remember Me at 24 and Emeli Sande's Clown at 35.
In the album chart, Bruno Mars second album Unorthodox Jukebox went straight to number one.
Selling 136,000 copies, it is the fastest-selling solo album of 2012.
Mars leads an all-male top three, ahead of Olly Mur's Right Place Right Time and Michael Buble's Christmas.
With Sande's Our Version of Events at four, the Official Charts Company said the top four albums all sold more than 100,000 copies this week, evidence of festive purchases.
Green Day's Tre was the only other new entry in the album chart at 31. Completing a trilogy of albums, the first two records, Uno and Dos, peaked earlier this autumn at number two and 10 respectively.