Cinema woos senior citizens with Quartet and Song for Marion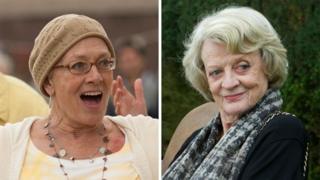 After the surprise success of The Best Exotic Marigold Hotel, more films are being lined up in 2013 with built-in appeal to older cinemagoers.
First out of the blocks in January is Quartet, Dustin Hoffman's directorial debut set in a home for retired opera singers.
Dame Maggie Smith leads a cast of by British veterans including Tom Courtenay, Billy Connolly, Pauline Collins and Sir Michael Gambon.
Hoffman describes the story - based on Ronald Harwood's play - as being about people in their "third act". He even hired a supporting cast of real-life elderly performers to give his film authenticity.
Quartet is followed in February by Song for Marion, in which terminally ill Marion (Vanessa Redgrave) pours her energies into a local choir of pensioners - The OAPZ - while her grumpy husband Arthur (Terence Stamp) glowers on the sidelines.
Both films come in the wake of 2012 box-office hit The Best Exotic Marigold Hotel which took $134m (£83m) worldwide during 2012 on an estimated $10m (£6.2m) budget.
With Dame Judi Dench, Maggie Smith, Bill Nighy, and Penelope Wilton among its ensemble cast, the film followed a group of British pensioners moving to a retirement hotel in India. A sequel is already in the pipeline.
With the number of older cinema-goers on the rise, industry watchers say Hollywood is taking note of the power of the "grey pound".
"The grey pound is taking hold in many areas - not just film - because the baby boomers have now retired, the children have left home and they have the disposable income that youngsters just don't have," says Nikki Baughan, editor of Moviescope magazine.
"Films like The King's Speech and Mama Mia have proved that the older generation is going out to the cinema. They don't want 3D, they want - as a lot of us do - really strong stories with strong characters."
The film industry, Baughan points out, likes to replicate previous successes.
"Hollywood is notoriously slow on the uptake, but when it finds something that works it really does stick at it - which is why we are seeing sequels to Best Exotic Marigold Hotel and The Expendables and RED."
Like Marigold Hotel, 2010's The Expendables and RED ("Retired, Extremely Dangerous") were notable for their ensemble casts of veteran actors.
"Our older generation of actors aren't retiring like they used to, so people like Judi Dench and Meryl Streep are pulling in audiences of their generation," Baughan says.
"There is a demographic of people who like old-fashioned - and I don't mean that as a derogatory term - way of making films: a solid story, a solid cast and situations that are relatable."
She also points out that some independent cinema chains are responding to the influx of older movie-goers by bringing in more comfortable seating and a laid-back ambience.
According to British Film Institute figures, in 2011 the proportion of cinema audiences aged over 45 increased to 28% following two years of decline.
It was driven by a number of box-office successes such as The King's Speech, Tinker, Tailor, Soldier, Spy and Jane Eyre.
"I think that trend is going to continue," says Mark Batey, chief executive of trade body the Film Distributors' Association. "Around a quarter of the UK audience now are 50 and above. It is really significant."
He says the new Bond film Skyfall has attracted audiences "literally from eight to 80" and predicts that forthcoming releases Hyde Park on the Hudson, Hitchcock and Les Miserables will also have broad appeal.
"It becomes a virtuous circle," says Batey, "because the more the industry can see that audience is coming out to the cinema so the more likely they are to be catered for."
The writer/director of Song for Marion, Paul Andrew Williams, tells the BBC he had no specific audience in mind when making his film.
"Rather than it being a film for an older generation, I think it's a film about two members of an older generation," he says.
"When we tested the film in America and England the largest demographic that liked it and would recommend it was under 30.
"I think because it's got Terence and Vanessa in such prominent roles that people might think we're trying to squeeze the grey pound, but that's certainly not my intention."
It is a "massive coincidence", asserts Williams, that Song for Marion and Quartet - both about singing pensioners - should have come along at the same time.
Billy Connolly, who stars in Quartet as randy, retired opera star Wilf, detects a change in the film industry when it comes to putting older people on screen.
"I think people are getting back to the old way of making movies," says the 70-year-old comedian and actor. "If you look at the movies of the 1930s and 40s there's no young people in them. And then in the 50s they invented this thing called the teenager and stuck him in everything.
"It became the norm to have that kind of person as the lead - and the more mature actor in the background. But I think they are getting back to making movies that resemble life pretty generally."
Connolly adds: "It's happening in music as well, with Bob Dylan and The Stones. The people who are making all the money are in their 60s and 70s.
"People are realising that old doesn't mean dead. Dead means dead!"
Quartet is out in the UK on 1 January 2013. Song for Marion is out 22 February.