Tate apologises for Kraftwerk ticket failure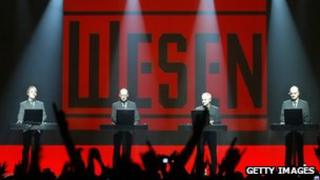 The Tate Modern has apologised "unreservedly" after its website was brought to a standstill by fans trying to buy tickets to see Kraftwerk.
The German electro pioneers will a play series of eight shows in the Turbine Hall next February.
But Tate's website crashed under the demand when booking began on Wednesday.
The gallery said its system had been "overwhelmed by the phenomenal number of people attempting to access it" on Wednesday. Tickets are now sold out.
Most of the tickets had to be sold over the phone and the Tate, which had decided against using a third-party ticketing site, has apologised for the frustration many fans experienced.
In a statement on its website, it said: "We expected to sell most of the tickets online before the galleries opened and did not anticipate selling tickets in the gallery. Some customers came to Tate Modern and we made the late decision to sell tickets to them to avoid their disappointment.
"We are sorry that this was not communicated as an official route to buy tickets and subsequently led to more frustration from other customers trying to buy tickets online and by telephone."
About 10,000 tickets were made available for the residency, which marks the band's first London shows since 2004.
Access will only be granted to the shows with the credit or debit card used to make the purchase, so the Tate urged people not to buy tickets from the secondary market.
Kraftwerk: The Catalogue is described as a "chronological exploration of the group's sonic and visual experiments" and promises "spectacular 3D effects".
It was first performed at New York's Museum of Modern Art earlier this year.
Beginning with their fourth album, 1974's Autobahn, the quartet will also play Radio-Activity (1975), Trans Europe Express (1977), The Man-Machine (1978), Computer World (1981), Techno Pop (1986), The Mix (1991) and Tour de France (2003), along with additional compositions from their back catalogue.