Spice Girls musical leaves critics cold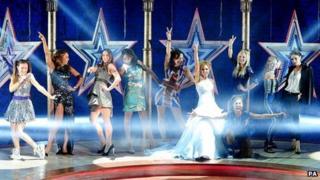 Critics have passed damning verdicts on Viva Forever!, the new stage musical featuring songs by the Spice Girls.
The Mail's Quentin Letts dubbed it "a prize Christmas turkey" in his one-star review, while the Telegraph's Charles Spencer called it "a clunker" in his.
The Express called it "misconceived", while the Mirror said the plot was "cliched" and the dialogue "leaden".
The Sun's review, written by "true fan" Poppy Cosyns, was one of few positive notices for the West End production.
It said Absolutely Fabulous creator Jennifer Saunders had done "a great job with the script" and that the show "flows really well".
The Guardian's Alexis Petridis was also more complimentary than his colleagues, saying the cast were "largely great" and that the production "zips along cheerily enough".
Yet even he found fault with the Spice Girls' "appalling lyrics", saying the group had not enjoyed "enough memorable hits... to support two hours of theatre".
Produced by Judy Craymer, who previously staged the hit Abba musical Mamma Mia!, Viva Forever! tells the story of a girl band who pursue stardom via a reality TV series.
This was an issue for the Telegraph's critic, who said Saunders' script was "insultingly banal" with a heroine - played by Hannah John-Kamen - it was "hard to warm to".
"This is a fatuous show with nothing fresh to say about popular culture and our fixation with fame," his one-star write-up continued.
"Add to that some iffy performances, gloomy backdrops and a lamentably slow start, and you have the makings of a notable West End flop," added Letts in the Daily Mail.
"Viva Forever?" concluded Alun Palmer in the Daily Mirror. "More like clapped-out Vauxhall Viva, five careless owners and far too many miles on the clock."
In his two-star Express review, meanwhile, Simon Edge said he feared the show would "leave true Spice Girls fans wondering what happened to the oomph, pizzazz and sheer excitement of Girl Power."
"The evening only achieves the kind of deliriously silly and joyous lift-off that you really, really want from this kind of show - and more than once - at the encore," summed up Paul Taylor in The Independent.
The show, he went on, is "embarrassingly derivative of Mamma Mia! and looks way past its sell-by date in its utterly surprise-free satiric swipe at X Factor".
All five members of the Spice Girls were in attendance at Wednesday's first night, though Victoria Beckham's late arrival meant she did not pose for photos with her former bandmates.
But 'Posh' did take to the stage with Geri 'Ginger' Halliwell, Melanie 'Scary' Brown, Melanie 'Sporty' Chisholm and Emma 'Baby' Bunton at the end of the performance at London's Piccadilly Theatre.
Joan Collins, Joanna Lumley, Elaine Paige and Derren Brown were among the other celebrities who attended the show and the first night party at Victoria Embankment Gardens.
According to reports, Viva Forever! has already taken £4 million in advance bookings.