Evita revival to end Broadway run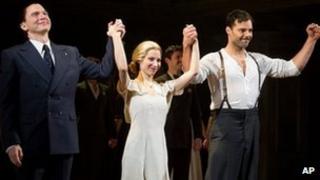 The Broadway revival of Evita is to close in January, its producers have said.
The production had planned to continue its run after the departure of its three stars, Ricky Martin, Elena Roger and Michael Cerveris, on 26 January.
But its producers said they were unable to find replacements whose schedules fit in with the show's.
"The planets have simply not aligned to engage the right talent at the right time," producer Hal Luftig said.
The Tony-nominated revival, directed by Michael Grandage and choreographed by Rob Ashford, opened on 12 March at the Marquis Theatre.
It is based on the 2006 West End production in which Argentine actress Roger made her debut as the ambitious Eva Peron.
When it closes the show will have played 26 previews and 337 performances - far less than the original Broadway production, which had more than 1,580 shows between 1979 and 1983.
"Our extensive search for a new cast presented the significant challenges of not only replacing a high-calibre trio of stars but also synchronising the schedules of potential replacements with that of the production," Luftig said.
The show has broken the Marquis Theatre's box office record seven times, though takings have also slumped on occasion.
Last week it pulled in $921,000 (£571,600), a little more than half its $1.67 million (£1.04 million) potential at full capacity.
A US tour will launch in September next year with a cast yet to be announced.