Jim Cartwright returns with new play A Christmas Fair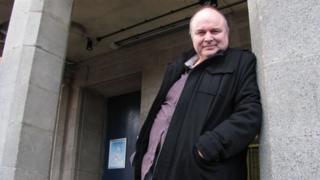 Jim Cartwright wrote hit plays like The Rise and Fall of Little Voice and Road in the 1980s and '90s. He has now written his first play in 12 years for an assembly room in a small North Yorkshire town.
In an office in the basement of Malton's Milton Rooms, Jim Cartwright is racking his brains to remember whether this is really his first play since Hard Fruit at the Royal Court in London in 2000.
"Oh no I don't think so" he replies. "Is it? Er… ah…um…
"Blimey, what have I been doing for the last 12 years?" The writer lets out a loud laugh. "Where have I been?!"
Upstairs, the sets for his new show are being prepared - trestle tables in the hall, bric-a-brac in the back, a surround for a Santa's grotto in the foyer.
Garry Cooper, the venue's joint artistic director, rushes in with a hammer to fix something that needs fixing. His co-artistic director Nick Bagnall looks workmanlike with a pencil behind his ear.
The pair of theatre veterans took over the 200-year-old assembly rooms last year with the aim of turning it into a thriving theatre. This is their biggest show yet but they do not have the luxury of a large crew to look after the day-to-day practicalities.
Cartwright's show is A Christmas Fair, about a web of village sagas and secrets that unfold around the festive tombola table and punch stand.
"I love Christmas fairs," the writer says. "Tables set out, refreshments, craft stall, second hand books, games, Santa. We have all those things.
"It's all about the people setting up the fair in the first act and taking it apart in the second. We hear their stories and who we might think they are and actually who they are.
"And in the interval the audience come forward and shop in the Christmas fair. So if you want to pick up any extra presents you've missed out on or have a drink of Christmas punch or see Santa, you can do that as well."
The play's characters includes Veronica, a stalwart of the WI and dog obedience class, the vicar ("You've got to have the vicar," Cartwright says), a young playwright newly arrived in the village, the hall's caretaker and a typical ("so we think") village girl.
"I wanted to do something about the Christmas spirit. It is imbued with the Christmas spirit, hopefully," the playwright says.
Does that mean there is good will to all men?
"Well, like everybody's Christmas, there's parts of that but there's also an undercurrent," Cartwright replies. "Aren't more people murdered at Christmas than any other time?"
The son of a factory worker from Farnsworth, Lancashire, Cartwright rose to prominence in 1986 after a friend of a friend at the Royal Court saw a sample of his writing.
The result was Road, a peep into the lives of vividly-drawn characters on a downtrodden northern street, which was hailed for combining social realism with a poetic humanity.
It was followed by the plays Bed and Two before Cartwright's biggest hit, The Rise and Fall of Little Voice, about a timid girl who discovers the ability to imitate great divas on stage.
It premiered at the National Theatre in 1992, was nominated for six Olivier Awards and was turned into a hit film in 1998, starring Jane Horrocks.
Most of Cartwright's plays are masterful depictions of the disenfranchised, the misfits or those struggling to find their way. But with A Christmas Fair, we find him deep in middle England.
"It probably is a departure to be honest," he says.
He has written about the middle class before, he says, and bats away the suggestion that the shift in his gaze from the breadline to the cake stall was calculated, or that it reflects what has happened in his life.
"I never consciously set out to do anything," he says. "I don't know what the hell I'm doing half the time. It's just how it came out. It's just how it popped out."
The way he describes it, Cartwright's approach to his career has always been spontaneous, verging on the haphazard.
But the success of his plays, which are regularly revived around the world, means he has had the luxury of not needing a plan.
When I ask what else he is working on, a glint appears in his eye and it is hard to know whether he is putting on the scatterbrained artist act.
"I'm sitting by the riverside. I'm just scooping now and again," he says, motioning as if drinking water with his hands. "Or, something jumps out. A big fish lands in my lap."
He eventually concedes that Hard Fruit probably was his last new play (his official website agrees too). That show was panned by critics. But Cartwright says he did not intend to stay away from the stage for so long.
So where has he been? He has written TV dramas including King of the Teds for Sky Arts, the BBC's Vacuuming Completely Nude in Paradise, which was directed by Danny Boyle, and even episodes of Coronation Street.
He has also written a novel and has just been directing a touring version of The Rise and Fall of Little Voice.
But Malton, population 12,500, feels a long way from the established theatre circuit and seems an unlikely place for his latest premiere.
Cartwright says he has not deliberately avoided the brighter lights and bigger cities, but wanted to write a play for this venue after being inspired by the hall and persuaded by the passion of Cooper and Bagnall.
"I don't know what I'm doing half the time," he says again. "I just wander about. I came up here. It doesn't matter to me where it is. I came up here and it was a great environment being made by these two guys.
"The space inspired me. The gift was given to me from wherever it comes from. Do it here. Do it."