Charles Dickens signed book 'to go home'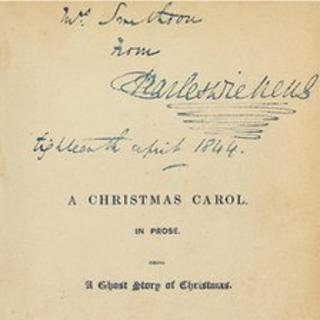 A signed copy of Charles Dickens's A Christmas Carol is to return to the town that was said to have inspired Scrooge's counting house.
The book has been bought for £27,000 by a group of donors after a fundraising campaign in Malton, North Yorkshire.
Dickens was good friends with solicitor Charles Smithson, whose Malton office was the basis for Scrooge's counting house, according to town legend.
Dickens wrote a message in the book to Smithson's widow when he died in 1844.
It will now go on show at the Talbot Hotel, near the Old Counting House in Malton, before joining the University of York's library and going on a tour of schools.
Dickens's classic Christmas story was set in London but the author visited Smithson in Malton in 1843, just before he wrote the book.
Smithson's descendants say the author told him Scrooge's retreat was based on the Malton office and that the church bells in the story were those of nearby St Leonard's.
Dickens was godfather to one of Smithson's children and when the solicitor died at the age of 39, Dickens attended his funeral and wrote to his family that he wanted them to stay with him but there was not enough space.
He later sent the book to the solicitor's widow with the inscription: "Mrs Smithson, from Charles Dickens, 18th April 1844."
The fundraising campaign was led by broadcaster and local resident Selina Scott. She said: "It inspired me when I heard that the book was coming up for auction in New York, I knew immediately that it had to come back to Malton.
"I knew the Smithson story because my grandfather used to be the editor of the Malton Messenger and the Malton Messenger in those days was owned by a Miss Smithson.
"So it [the story] has come down through my family as much as it's come down through the Smithson family."
The book is on display at Castle Howard in North Yorkshire until Sunday before moving on to the Talbot Hotel in Malton.