The Master wins over LA Critics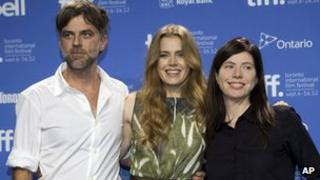 Stars of The Master have been named winners by the Los Angeles Film Critics Association, including best actor to Joaquin Phoenix.
Paul Thomas Anderson won best director while Amy Adams won best supporting actress for her role as the wife of philosophical leader Lancaster Dodd.
Cannes film festival winner, French film Amour, was named best film.
Expected Oscar nominees Les Miserables, The Hobbit and actor Daniel Day Lewis were not recognised.
Nominees for the Screen Actors Guild and Golden Globe awards are announced this week, and will be indicators of possible Oscar success in February 2013.
The Master won four awards in total with Jack Fisk and David Crank receiving a prize for best production design.
The best actress was a tie between 85 year-old actress Emmanuelle Riva, who plays a retired piano teacher in Amour, and Jennifer Lawrence for her role as a widow in Silver Linings Playbook, a comedy based on a novel by Matthew Quick.
Dwight Henry, a former Tennessee politician new to acting, won best supporting actor for his part of a hot-headed father in Beasts of the Southern Wild.
After picking up two best picture prizes from the New York-based National Board of Review and the New York Critics Circle, Zero Dark Thirty received one award for editing.
Directed by Hurt Locker Academy Award winner Kathryn Bigelow, it chronicles the decade-long search for al-Qaeda terrorist leader Osama bin Laden and has been tipped for Oscar wins.
Best screenplay went to Iran hostage film Argo, directed by and starring Ben Affleck, also an Oscar favourite.
The 85th Academy Awards nominations are revealed on 10 January.