Pulp homecoming concert turns back time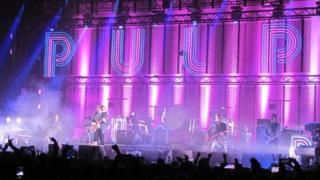 Britpop heroes Pulp have made a triumphant return to their home city of Sheffield, playing their first gig there for a decade.
The band, who reformed in 2011, played several songs from their early days in the city, led by singer Jarvis Cocker.
Cocker's sister Saskia - who was in the band in the early 1980s - joined him on stage for the 1983 track My Lighthouse.
"Even now, I still get scared when we play Sheffield. So thanks for coming and being so nice to us," Jarvis said.
Some 12,000 people packed the Sheffield Arena for the one-off concert, almost 35 years after the band formed.
"A lot of these songs were written when we lived here, and the ones that weren't are to do with it," Cocker told the crowd.
"Hopefully tonight has been a bit of a celebration of Sheffield but also a chance to come back to where it all started a long time ago."
Propelled by the singer and songwriter's wry kitchen sink lyrics and energetic showmanship, Pulp went on to become one of the most popular indie bands of the 1990s.
Dressed in a dishevelled suit and with a grey-flecked beard, the singer has in recent years come to resemble a lank-limbed lecturer.
But he has lost none of his charisma, and on Saturday he mixed crowd-pleasers like Common People with rarely performed tracks from the band's pre-fame years.
They dusted off the long-forgotten Little Girl With Blue Eyes and Countdown, while the highly-charged, eight-minute Sheffield: Sex City formed part of the encore.
They were also joined for several songs by fellow Sheffield musical legend Richard Hawley, who was a member of the band for a time.
"It was really sensational," said one fan, James Alger, 30, from Sheffield.
"Jarvis is brilliant and he's not lost anything over the years. They played absolutely everything you'd expect. And Richard Hawley on stage was a bonus.
"There was a real connection with the crowd that you don't get at all gigs when you feel the band's just touring and going through the motions."
Jessica Bazinet, who travelled from Glasgow for the gig, said Cocker was on form.
"Jarvis is just such a great frontman and I think that's quite lacking in today's music. Compared to bands today, he puts everything into it," she said.
Sam Pettifer, 39, from Sheffield, first saw Pulp at the Sheffield Leadmill venue in 1991. He described Saturday's performance as "proper amazing".
"They've got louder, they've got a bigger sound, but they've had the same essence throughout their careers," he said.
Pulp's next gigs will be in slightly different surroundings - they are playing at two mini-festivals to be held on a cruise ship off the Bahamas and Jamaica later this month.