John Lithgow on his 'physical' National Theatre farce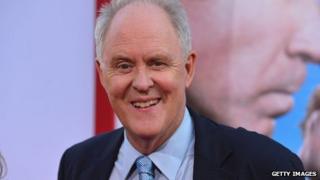 When John Lithgow first came to the UK to study at the London Academy of Music and Dramatic Art, following his graduation from Harvard, the National Theatre's concrete monolithic home on the South Bank didn't even exist.
Now 45 years on, the American actor is starring in the lead role of the National's Christmas production of The Magistrate.
"Its fantastic, every time I come to London to work is a wonderful, nostalgic deja vu time," he says.
At that time, the National Theatre's company was based at the Old Vic theatre, a 10-minute walk away and where the keen young acting student watched "15 productions over the two years I was here".
"Although it was in its infancy, it was an extremely seasoned company," he continues.
"(Laurence) Olivier was still there, Maggie Smith and Joan Plowright and Robert Stephens and some very young actors like Anthony Hopkins and Michael Gambon and Derek Jacobi.
"I saw them all."
The Magistrate, written by Arthur Wing Pinero in 1885, marks Lithgow's first full-scale show at the National Theatre.
In 2007, he played Malvolio in Shakespeare's Twelfth Night with the RSC at Stratford, a role currently being played by Stephen Fry in Mark Rylance's production at the Globe.
Lithgow also performed his one-man show Stories by Heart at the National in 2009.
However, the towering 6ft 4in actor admits this latest production is perhaps his most physically demanding.
"There's a lot of physical comedy, it's a big role in the Olivier Theatre and no matter what you're doing, it's exhausting because it's a hard hall to fill - vocally and physically.
"I'm soaked with sweat by the end and I can hardly talk and I'm completely happy."
The plot concerns the respectable magistrate Mr Aeneas Posket who finds himself caught up in a series of scandalous events involving his recently married wife and her son who thinks he is 14 but is actually 18.
"I have quite a history with the play," says Lithgow. "I saw Alistair Sim play my part in 1969 at Chichester, which I remember almost too well. It's hard to banish his memory and make it my own."
The play was first performed at London's Court Theatre - now the Royal Court - in 1885. A review in The Times said "it made the public laugh until their sides ached".
Reviews of the National's new production in November were also largely favourable.
Pinero was a former actor who became a prolific and successful playwright, authoring 59 plays. He was knighted in 1909 and died in 1934, aged 79.
Although little known by modern theatre audiences, he is going through something of a revival with several productions in the pipeline, including his 1898 comic play Trelawny of the 'Wells' at the Donmar Warehouse, to be directed by Atonement's Joe Wright - under new artistic director Josie Rourke.
Of Pinero, Lithgow says: "They're all wonderful, heartfelt, sentimental and - in the case of The Magistrate - very funny. He writes with great heart."
Comedy notoriously does not always age well and many of Pinero's works are more than 100 years old. Lithgow admits they were forced to take some liberties with the script and even leave out a joke or two.
"It has a cast-iron plot and solid characters," he says. "But there were some jokes that were hopelessly Victorian and we found those out."
One joke - too long to explain - concerned the difference between "Indian clubs" and "London clubs". The former being an old fashioned term for exercising equipment, the second - referring to drinking establishments.
"There was no way to explain that to people," Lithgow sighs.
Aside from theatre, the actor is twice Oscar-nominated - in consecutive years - for his role as transsexual Roberta Muldoon in The World According to Garp and, a year later, for Terms of Endearment.
His TV career is no less salubrious - five Emmy awards for his work in the comedy series 3rd Rock From The Sun and, two years ago, as the chilling Trinity Killer in the series Dexter. It was a role that also earned him a Golden Globe.
"The season was incredibly well written and the character was an appalling creation but a really compelling one. An almost vacuously nice guy, a good church-going man, a good family man - so much so, that his dark side was so unsettling and shocking when it came out."
Yet, Lithgow still considers himself first and foremost as a theatre actor - having spent "almost all of the 1970s entirely in New York theatre".
The son of a playwright and a veteran of more than 20 Broadways shows, he is well aware of the angst felt by local theatre companies as they see their budgets slashed.
His boss at the National Theatre, Sir Nicholas Hytner and Oscar-winning director Danny Boyle recently came out to highlight the plight faced by theatres, particularly in the English regions, in the current age of austerity.
"I think Nick is a great hero pushing so hard, and not for the National I might add," says Lithgow.
"Regional theatre is the lymphatic system of a nation's theatre culture, it constantly feeds and regenerates not just the theatre but the audiences.
"It's a terrible thing to think cities like Newcastle and Birmingham and Liverpool and Nottingham, that have had a great theatrical tradition, are in such trouble now."
Culture secretary Maria Miller has defended budget cuts which bodies like Arts Council England have passed on to local theatre funding and Lithgow accepts a leisure activity is a difficult sell when other services are closing down.
"Its a hard argument to make when people are out of work," he says. "But as an outsider, the theatre in Britain is its pride and joy and needs to be protected."
The Magistrate is on at the National Theatre until 10 February.