The Bodyguard musical earns a mixed critical response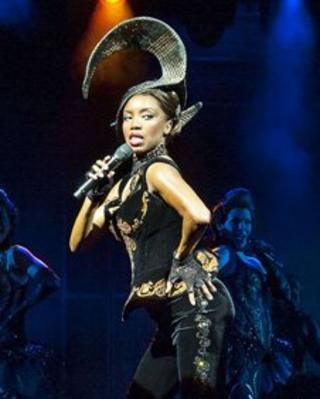 The stage version of Whitney Houston film The Bodyguard has received mixed reviews at its West End premiere.
The Telegraph's Charles Spencer called it "proof that if you can't make a silk purse out of a sow's ear, you can sometimes come surprisingly close".
But the Guardian's Michael Billington claimed it was "one more example of the necrophiliac musical morbidly attracted to a cinematic corpse".
However, there was universal praise for Heather Headley in the lead role.
The former Broadway star, who is returning to musical theatre after a break of more than twelve years, won acclaim for her "sassy stage presence" and "vocal swoops and trills... at least as fine a singer as Houston in her heyday, if not even better," wrote Spencer.
Houston, one of the world's best selling singers of the '80s and '90s, was found dead in a Los Angeles hotel room on the eve of the Grammy Awards in February this year.
She starred in The Bodyguard, opposite Kevin Costner, at the height of her fame in 1992.
Lawrence Kasdan's screenplay was rumoured to have been rejected some 37 times before it made it to the big screen, but - despite multiple Golden Raspberry nominations - went on to become one of the box office smashes of the year.
'Assured production'
The stage version, at London's Adelphi Theatre, has been reworked by Alexander Dinelaris putting Headley's Rachel Marron at the centre of the action and beefing up the role of Rachel's sister, and love rival - while also highlighting Houston's own canon of songs.
"The Bodyguard manages to fall simultaneously into two pretty suspect categories - the screen-to-stage adaptation and the jukebox musical," write Paul Taylor in The Independent.
But adds "the show is an altogether more pleasurable experience than that doubly dubious distinction might make it sound".
"It's loud, it's soupy, it is as predictable as the tides - yet it makes for a pumpy, undemanding evening," agreed Quentin Letts in the Daily Mail, labelling it "a modern romantic classic".
There was also consistent credit among critics for director Thea Sharrock's "sleekly assured production [which] moves with a velvet fluency thanks to the screens that open and close like camera shutters in Tim Hatley's handsome, canny design".
"But all the vocal pyrotechnics and technical know-how on offer can't put right the vapidity at the core of a plot that could have been written on the back of an interval drinks order," wrote Matt Wolf of The Arts Desk.
"By no stretch of the imagination is The Bodyguard a great musical," said the Telegraph critic, summing up the general mood.
"But with all the big Whitney Houston hits superbly delivered by Headley and a cracking pit band, I suspect it is destined for a long and lucrative run."