Zero Dark Thirty: More clamour for Osama drama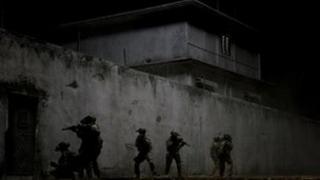 Zero Dark Thirty, Kathryn Bigelow's film about the 10-year hunt for Osama Bin Laden, has been named best film of 2012 by the National Board of Review.
Bigelow, Oscar-winning director of The Hurt Locker, was named best director by the New York-based collective of film historians, student and academics.
Jessica Chastain, who plays its CIA agent heroine, won best actress.
Earlier this week, the fact-based drama was named best film of the year by the New York Film Critics Circle.
It is named after the military term for 00:30, the time US Navy Seals raided Bin Laden's compound in Abbottabad in May 2011.
Annie Schulhof, president of the National Board of Review, described it as "a masterful film".
"Kathryn Bigelow takes the viewer inside a definitive moment of our time in a visceral and unique way," she said. "It is exciting, provocative and deeply emotional."
The film is released in the UK on 25 January.
Villainous role
The NBR was established in 1909 and is one of the first groups to nominate its picks for the film awards season.
Bradley Cooper was named best actor on Wednesday for his role as a manic depressive in the romantic comedy Silver Linings Playbook.
Leonardo DiCaprio was named best supporting actor for his villainous role in Quentin Tarantino's western Django Unchained.
The best supporting actress prize went to relative unknown Ann Dowd for her performance as a fast food restaurant worker facing a moral quandary in the independent film Compliance.
Breakthrough awards went to British teenager Tom Holland for tsunami drama The Impossible and to child star Quvenzhane Wallis for Beasts of the Southern Wild.
The NBR also released its Top 10 of the year, a list that included Ben Affleck's Argo, science-fiction film Looper and Steven Spielberg's historical drama Lincoln.
Also featured was the film version of Les Miserables, whose cast - which includes Hugh Jackman, Russell Crowe and Anne Hathaway - received the best ensemble prize.
The busy actor John Goodman - seen this year in Argo, alongside Denzel Washington in Flight and with Clint Eastwood in Trouble with the Curve - was given a special acting award.
The producers of the James Bond series were also recognised to mark the 50th anniversary of the long-running spy film franchise.
The NBR's annual awards gala will be held in New York on 12 January.