Broadway takings climb to $1.14bn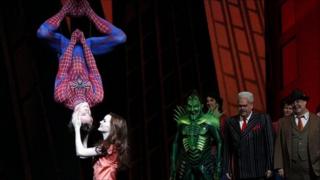 Broadway, America's theatre district, had a record breaking 2011-12 season, with takings of $1.14bn (£708m).
However, the boost was largely down to rising ticket prices, as admissions were down from 12.53m to 12.33m.
Tourists accounted for 63.4% of tickets sold, while international tourists made up 18.4% of all admissions, said the Broadway League.
The Broadway season begins and ends in late spring, bookmarked by the Tony Awards.
In its annual report, the trade association for the Broadway industry revealed that 67% of audiences were female, while the average age of ticket-buyers was 43.5 - slightly lower than 44 from last season.
Musicals attracted the biggest audiences, with 9.8m going to watch hits including Mamma Mia!, Spider-Man: Turn Off the Dark and Wicked.
Those shows accounted for $933.9m (£580m) of overall takings, with plays responsible for $186.1m (£115.6m), from 2.3m theatre-goers.
Early closures
Plays tended to attract more recurring visitors than musicals, with die-hard theatre-lovers driving a significant share of the box office.
Those who saw 15 shows or more made up only 5% of the overall audience, but accounted for 29% of admissions.
The average ticket price paid for musicals was $94.85 (£58.92) - up from $88.30 (£54.85) last season - and $79.54 (£49.41) for plays, up from $75.10 (£46.65).
Meanwhile, David Mamet's new play The Anarchist and Kathie Lee Gifford's musical Scandalous will end their Broadway runs earlier than expected.
Mamet's show, which stars Patti LuPone and Debra Winger as a prison inmate and warden will close on 16 December after just 23 previews and 17 performances.
While Scandalous, about the life of preacher Aimee Semple McPherson, said it will end on 9 December after 60 shows.
Both shows received bad reviews from critics and struggled at the box office.