Eurovision bosses call dropout reports 'premature'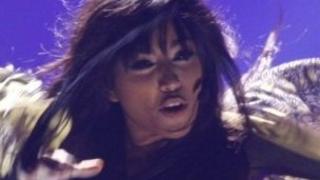 Eurovision Song Contest organisers have called reports Greece and Cyprus will pull out of 2013's event "premature".
It has been suggested the countries have taken the decision because of the expense of winning and hosting the competition the following year.
Poland, which pulled out this year, will not compete in 2013 and Portugal have followed suit.
But organisers said they anticipate "the usual number" of countries when Sweden hosts the event in Malmo in May.
The 2012 contest, held in Baku, Azerbaijan, hosted 42 countries.
Sietse Bakker, Eurovision's event supervisor said any news about the countries taking part in 2013 is "speculative" until the official list is released in January, but that they expect between 38 and 42 countries to be represented next year.
Economic downturn
"Countries come and go every year and the current trend is not unusual," said Bakker.
"We are well aware of the fact that public broadcasters in Europe feel the consequences of the economic situation we face these days.
"This is why the [European Broadcasting Union] has made funding of public broadcasters in these difficult economic times a priority issue."
Portugal has entered every year since 1964 and relative newcomers Poland first sent an act in 1994.
Greece first entered the competition in 1974, and Cyprus joined seven years later.
Last week, the Guardian reported a Greek government spokesman as saying: "Public television ought not to participate in this year's Eurovision contest in correspondence with overwhelming public sentiment.
"It is very unlikely that Greece will take part."
Portugal's withdrawal from next year's competition, Bakker said, was due to ratings and programme budgets, rather than its inability to host the event if its act won.
Bakker said the number of broadcasters that share the cost of organising and staging the event enables them to keep it "affordable".
Organisers would step in if a winning country was unable to host the event, she said.
"We of course have, as ever, contingency plans in case a winning country could not afford to pay for their share in organising the contest, and continuously look into ways to make hosting the contest more affordable."
Organisers have had to intervene in the past.
When Israel won for the second year in a row in 1979, the organisers allowed other countries to bid to host the event.
The practice was more common in the 1960s and 1970s when the BBC took over the reins on four occasions.
Several countries had to pull out of the Eurovision in 2010 because they could not afford to take part.
Hungary, Andorra, the Czech Republic and Montenegro all withdrew from the contest in Norway's capital Oslo.