Holly Willoughby gets payout from Sunday Sport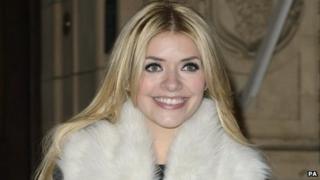 TV presenter Holly Willoughby has received an apology and a four-figure sum in damages from the Sunday Sport after it published a fake "up the skirt" photo it had claimed was her.
The shot of a young woman getting out of a taxi appeared on the paper's front page on 11 November, alongside shots of Willoughby at an awards ceremony.
The paper admitted using the photo to "create the illusion it was Holly".
She said she is "delighted" with the outcome of the "unpleasant episode".
The host of This Morning and The Voice had threatened legal action against the Sunday Sport, who headlined the revealing photo with "Holly Willoughby up the skirt photo shock!".
However lawyers said she has agreed not to pursue it after the paper's front-page apology on 25 November.
It admitted the woman was wearing a dress in similar fabric but that "contrary to the clear impression that we give in the edition, no part of the 'up-skirt' photograph was of Holly Willoughby".
In a statement issued by her lawyer Jonathan Coad from Lewis Silkin on Tuesday, Willoughby said she would give the money to charity.
"I am delighted that the Sunday Sport has on its front page informed its readers that they were misled about the 'up-skirt' picture they published which the paper said was of me, and made a fulsome apology," she said.
Willoughby revealed the newspaper had paid her damages and her legal fees.
She added: "I am donating my damages to the wonderful charity of which I'm a patron, Together for Short Lives, which at least means that something good has come out of this unpleasant episode."
The paper said it apologised "unreservedly to Holly for the embarrassment we have caused to her and her family."