TV channel fined over Simpsons 'blasphemy' in Turkey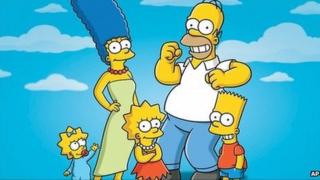 Turkey's TV watchdog has fined a TV channel for airing an episode of hit US animation The Simpsons which shows God taking orders from the devil.
The Supreme Board of Radio and Television (RTUK) said CNBC-e insulted religious values by "mocking God" and has been fined 53,000 lira (£18,427).
It said the episode also showed copies of the Bible being burnt and encouraged young people to consume alcohol.
CNBC-e has aired The Simpsons in Turkey for almost a decade.
The Hurriyet newspaper reported that the episode also showed one character encouraging another to commit murder in the name of God.
RTUK has imposed a string of fines for television series deemed to be insulting to God, historical leaders or offending family values.
The broadcasting watchdog was ridiculed by Hurriyet columnist Mehmet Yilmaz.
"I wonder what the makers of The Simpsons would say when they hear their jokes are taken literally in a country called Turkey," wrote Yilmaz.
"Perhaps Homer will get a Muslim neighbour."
Turkey is a secular republic but most of its 75 million people are Muslim.
Last week Prime Minister Tayyip Erdogan tore into a chart-topping soap opera about the Ottoman Empire's longest-reigning Sultan, and RTUK has warned the show's makers about insulting a historical figure.
The Simpsons is broadcast in more than 100 countries and is the longest-running US sitcom, having first aired in 1989.
An RTUK spokeswoman said full details would probably follow next week, while CNBC-e said it would comment once the fine was official.