Twilight continues US box office reign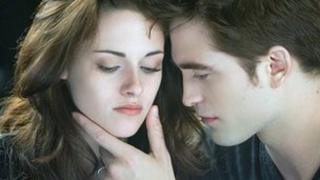 The Twilight finale has continued to dominate the North American box office, topping the chart for a third week, early figures suggest.
The Twilight Saga: Breaking Dawn - Part 2 took $17.4m (£10.8m), bringing its domestic total to $254.6m (£158.7m).
James Bond film Skyfall was just behind with $17m (£10.6m) in its fourth week of release.
Steven Spielberg's historical drama Lincoln, starring Daniel Day Lewis, remained at three with $13.5m (£8.4m).
The film, which features the Oscar winner as the 16th US president, also stars Sally Field, Tommy Lee Jones and Joseph Gordon Levitt.
In an unchanged top five, animated film Rise of the Guardians and Ang Lee's Life of Pi filled the fourth and fifth spots.
Brad Pitt's latest film, Killing Them Softly, failed to make an impact on the chart, taking just $7m (£4.4m) domestically and entering the chart at number seven.
Adapted from George V Higgins's novel Cogan's Trade, the small-budget film stars Pitt as a hitman brought in by mafia bosses to eliminate a group of thieves who raid a high-stakes poker game.
Although rated fairly highly with critics, the film was panned by cinemagoers who rated it with an F grade with audience survey film CinemaScore.
The success of the Twilight and James Bond films, plus the upcoming releases of The Hobbit and Les Miserables are likely to push 2012 ticket sales to a record high.
With domestic business totalling $9.9bn (£6.2bn) so far, box office receipts are running 6% ahead of last year's and are on track to top the record of $10.6bn (£6.6bn) set in 2009, according to box office tracker Hollywood.com.
"I keep upping my revenue estimates for the full end-of-year box office because it's just been a lot stronger than anticipated lately," analyst Paul Dergarabedian said.