Helen Mirren 'unsure' over reprising her portrayal of the Queen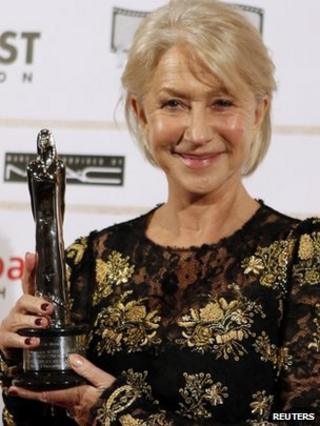 Dame Helen Mirren has admitted she felt "very unsure" about reprising her Oscar-winning role as The Queen in an upcoming West End play.
"I don't like going back to things," the 67-year-old said. "I like to go forward."
But she was won over, she went on, by the "extraordinary team of artists who are putting the play together".
The actress was speaking at the European Film Awards in Malta, where she received an honorary award.
Written by Peter Morgan, who also wrote The Queen, The Audience examines the monarch's relationship with the Prime Ministers who served during her reign.
"The play's not really about the Queen," said Dame Helen. "It's more about Britain in the 20th Century.
"It's an extraordinary way of looking at the history of Britain."
Directed by Stephen Daldry, The Audience opens in February at the Gielgud Theatre in London's West End.
Dame Helen's comments came as she spoke to reporters after accepting an award for European Achievement in World Cinema.
Her screen portrayal of Elizabeth II in 2006 also won her a slew of prizes, among them a best actress prize at the European Film Awards.
Yet she still expressed surprise at receiving a standing ovation from the audience at the Mediterranean Conference Centre in the Maltese capital, Valletta.
"You get praise for some things you do, and for others you get kicked in the teeth," said the actress, who received her prize from friend and sometime co-star Sir Michael Gambon.
"So when something like that happens it's so unexpected. It was an amazing moment."
Austrian victory
Dame Helen was one of a handful of British honourees on a night dominated by Palme d'Or winner and Oscar hopeful Amour (Love).
Michael Haneke's drama about an elderly couple dealing with illness and dementia was named best European film and won additional prizes for its Austrian director and its two lead actors.
Neither Jean-Louis Trintignant nor Emmanuelle Riva - aged 81 and 85 respectively - were able to attend the ceremony.
Amour, released in the UK last month, is Austria's entry for next year's foreign language film Oscar.
Saturday's event marked the 25th anniversary of the European Film Academy's annual prize-giving gala, which was first held in Berlin in 1988.
Italian film-maker Bernardo Bertolucci, an honouree at the inaugural awards, was recognised again with a lifetime achievement accolade.
"What can I say? Long live European cinema!" said the director of Last Tango in Paris, The Last Emperor and The Conformist.
The 72-year-old's most recent film Me and You - his first in nine years - screened earlier this year at the Cannes Film Festival.
Also recognised was British spy thriller Tinker Tailor Soldier Spy, which received awards for its music and production design.
Shame, Steve McQueen's film about sex addiction, was also honoured twice, taking home awards for its cinematography and editing.
The producer of another winning title, Belgian release Come As You Are, celebrated its winning the People's Choice Award by proposing to his girlfriend from the stage.
Yet the jovial mood was dampened on occasion by sombre references to the eurozone's financial situation and uncertain future.
"Europe is in a deep financial crisis, and in a crisis of identity," said Germany's Wim Wenders, president of the 2,700-member European Film Academy.
"But Europe is more than its economy," continued the director of Wings of Desire and Paris, Texas director. "Our cinema can feed the European soul.
"We need a European cinema if we want to give Europe a future we can believe in."