Cervantes Prize won by Jose Manuel Caballero Bonald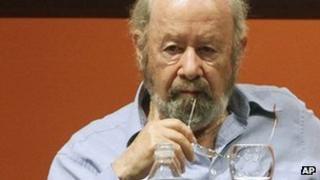 Spanish poet and essayist Jose Manual Caballero Bonald has been awarded the Cervantes Prize, the highest literary honour in the Spanish-speaking world.
The 86-year-old was one of Spain's leading novelists of the 1950s and 1960s, devoting his work to the country's social situation at the time.
The jury said he was awarded the prize for helping "enrich the Hispanic literary legacy".
The prestigious award comes with a 125,000 euro (£101,000) cash prize.
Jury president Dario Villanueva, praised the poet as a "teller and creator of stories, and a maestro in the use of the language".
The Cadiz-born writer is considered one of the most important of the so-called Generation of 1950 - the first generation of writers who did not fight in the Spanish Civil War but lived through the following years of poverty and government repression led by General Francisco Franco.
His works include the poetry collection Manual de infractores" (Offenders' Manual), which stands as a call for dissent, rebelliousness and non-conformism.
However, the writer resisted the Generation of 1950 label, saying it served only to help historians in putting together literary encyclopaedias.
The Cervantes Prize, which was first handed out in 1976, generally alternates between Spanish and Latin American writers.
Last year, it went to Chilean poet Nicanor Parra.
Previous winners include Carlos Fuentes of Mexico, and Nobel Prize winners Mario Vargas Llosa of Peru and Spain's late Camilo Jose Cela.