Lee Evans and Sheila Hancock star in new stage comedy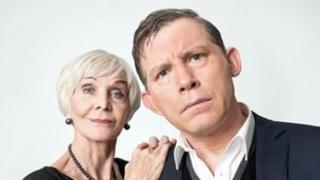 Barking In Essex, a new stage comedy starring comedian Lee Evans and Sheila Hancock, will premiere in September next year.
The production, directed by Harry Burton at Wyndham's Theatre in London, has been written by Clive Exton - of Poirot and Jeeves and Wooster fame.
Evans' stage credits include The Producers and Endgame, while Hancock has appeared in Sister Act and The Birthday Party.
Previews will be held from 6 September.
The story is based on a character called Algie Packer, an infamous gangster from Essex, who has spent seven years in jail and has come home to his dysfunctional family to collect over £3.5 million pounds.
Lee Evans will play the role of Darnley, a dim-witted idiot of the criminal underbelly and Sheila Hancock is Emmie, his Rottweiler mother.
It follows the family as they attempt to cover their tracks before Algie arrives home to claim his money.
It opens officially on 16 September next year.