Sundance Film Festival announces competition line-up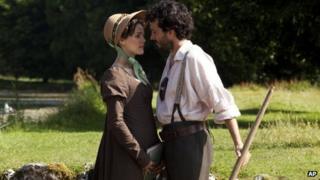 A record number of female directors are to compete for the top honour at next year's Sundance Film Festival.
Eight of the 16 films in the dramatic category are directed by women.
Among those shortlisted are Lynn Shelton's Touchy Feely, starring Ellen Page, and Liz W Garcia's The Lifeguard, starring Kristen Bell.
The competition also includes the premiere of Kill Your Darlings, featuring Harry Potter star Daniel Radcliffe as poet Allen Ginsberg.
The previous best showing for female filmmakers in the dramatic category was in 2000, when six of the competing films were directed by women.
Sundance director John Cooper said it was a sign of a "coming-up-through-the-ranks situation", as female directors graduate from short films to feature-length stories.
Kathryn Bigelow became the first woman to win best director at the Academy Awards in 2010.
Female stories
As well as female directors gaining ground in the main competition at Sundance, more than half the shortlisted films centre on women.
Touchy Feely tells the story of a massage therapist unable to do her job when she suddenly has an aversion to bodily contact, while Jill Soloway's Afternoon Delight is a dark comedy about a lost LA housewife who takes in a young stripper as a live-in nanny.
"There are a lot of women's stories, and interestingly enough, a lot of those stories exploring sexual relationships," programme director Trevor Groth said.
"We have had some over the years that have been from a male gaze looking at sexual politics and sexual relationships, but this year we have got a wave of films doing that from a female perspective, which is intriguing and exciting."
Other films shortlisted include Kyle Patrick Alvarez's C.O.G, about a man travelling to Oregon to work on an apple farm and Jerusha Hess's Austenland, about a woman obsessed with Pride and Prejudice.
Stacie Passon's Concussion, about a woman in a lesbian relationship who becomes a call girl, and Jordan Vogt-Roberts's Toy's House, about three unhappy teenage boys who flee to the wilderness, are also in the running.
In total, 113 feature length movies from 32 countries will be shown at the festival, which runs from 17-27 January in Utah.
Earlier this year hotly-tipped Oscar contender Beasts of the Southern Wild won the grand jury prize for best drama.