Maria Miller responds to criticism over arts cuts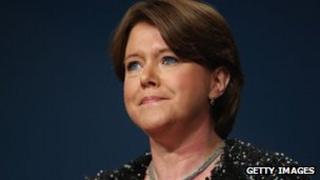 Culture Secretary Maria Miller has hit back at criticism from senior arts figures over cuts to arts budgets.
"Much of what we're hearing from the arts world is close to pure fiction," she wrote in the Evening Standard.
"Accusations that this Government neither likes nor supports the arts are disingenuous in the extreme," she said.
She was responding to attacks on government policy made at Sunday's London Evening Standard Theatre Awards.
Among those to speak out were National Theatre boss Sir Nicholas Hytner, actor Stephen Fry and directors Danny Boyle and Stephen Daldry, who were honoured for their work on the Olympic ceremonies.
Hytner said further cuts to theatre budgets made "no economic sense whatsoever" and called on the Culture Secretary to fund all theatres to the level enjoyed by the National Theatre in order to stimulate philanthropic giving.
"Philanthropy is not an alternative to public money - it is a consequence of public funding," he said.
Both Hytner and Boyle have recently voiced their concern for regional theatres, with venues at risk of closure from budget cuts.
Many theatres have seen their funding reduced by both the Arts Council England and local authorities, with the prospect of more cuts to come.
Theatres are having to argue their case as local authorities slash day-to-day services and with the government's grant to the Arts Council reduced by 30%.
In her comment piece in The Standard, Ms Miller said: "Sir Nicholas Hytner, Danny Boyle, Stephen Fry and Stephen Daldry are giants in the arts world and need listening to. I agree with many of their comments at the Standard Theatre Awards. The arts do produce a clear benefit to the economy.
"But I do not accept this is all at risk under the Government's spending plans. We have worked with the Arts Council to ensure that frontline arts organisations have their budgets cut by no more than 15% over the next four years."
She went on: "As the Autumn Statement approaches, it is perhaps not surprising that the arts lobby is becoming more vocal. But my department and the Government have to consider the whole array of claims made on taxpayers' money."
Boosting philanthropy
Culture minister Ed Vaizey has also defended the coalition government's record on arts funding.
In a letter to industry publication The Stage, Mr Vaizey challenges claims of "alleged government indifference and a lack of public funding".
He said: "In the current debate about arts funding, I agree with much of what has been said. Yes, our regional theatres are very good value and, yes, they produce brilliant work.
"We are living in tough economic times. But despite that, over the life of this parliament, we'll be investing £2.9 billion in the arts. How? We secured a fair settlement for the arts in the comprehensive spending review and we also reformed the National Lottery, increasing the share to the arts back to what it was when the Lottery was set up."
His letter also defends the government against claims by Hytner that it had done "next to nothing" to encourage philanthropy.
On Wednesday, the Department for Culture, Media and Sport published a report, Philanthropy Beyond London, with suggestions for cultural organisations - particularly those outside the capital - to improve fundraising.
Written by Peter Philips, the chairman of Birmingham Opera Company, the report included among its recommendations that the chief executives of regional cultural organisations should take a more central role in fundraising efforts.
The report is the second in a series of three independent studies, commissioned by the government, looking at ways of boosting arts philanthropy.