Mike Tyson's stage show to tour the US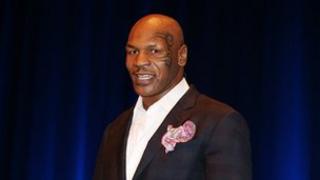 Former heavyweight boxing champion Mike Tyson's stage show will be shown in 36 cities over 10 weeks next year.
Directed by Spike Lee and written by his wife, Kiki Tyson, Undisputed Truth is an autobiographical monologue, which premiered in Las Vegas in April.
After a run on Broadway, The Hollywood Reporter described it as "weirdly fascinating" while "The Telegraph said it was, at times, "self-indulgent".
Tyson said he is "excited" about the next run of shows.
"Undisputed Truth is my story," he said. "I'm giving my all. I'm proud to take the show nationwide."
The tour starts in Indianapolis in February and continues to Chicago, San Francisco, Los Angeles, Detroit and Washington DC.
In the two-hour production, Tyson reflects on growing up in Brooklyn without a father, his rise to fame, a stint in prison, battling drug addiction and the time he famously bit Evander Holyfield's ear in a 1997 match.
'Self-serving'
Tyson retired from boxing in 2006. He played himself in the 1999 film Black and White and, more recently, starred in 2009 film The Hangover and TV series Entourage in 2010.
The show drew considerable attention in the press when it was staged at the Longacre Theatre on Broadway in August.
"That incongruous, almost childlike Tyson charm pokes through occasionally and makes you momentarily forget how ham-handed and manipulative the show is," wrote Neil Genzlinger, of The New York Times, in his review earlier this summer.
Frank Scheck from The Hollywood Reporter described the show as "self-serving" and Tyson's monologue "frequently profane, sometimes draggy" but "weirdly fascinating".
Meanwhile Newsday's Robert Cassidy said Tyson's third wife has written a "very clever script" , adding Tyson is "still capable of delivering a knockout. Only now, he doesn't need to throw a punch."
Joe Dziemianowicz, of the New York Daily News, was favourable about Tyson's on-stage presence and said: "Iron Mike is gifted with iron-clad charisma and can work an audience."