Lenny Kravitz to play Marvin Gaye in new biopic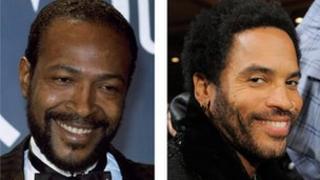 Rock singer Lenny Kravitz is to play Marvin Gaye, the 'Prince of Motown', in a new biopic to be filmed in 2013, his publicist has confirmed.
It will be the first lead role for Kravitz, 48, who has performed several supporting roles and cameos in films.
Gaye, whose hits included Sexual Healing and Let's Get It On, was shot dead by his father in 1984.
Rolling Stone said Kravitz would portray Gaye during his battles with depression and drug addiction.
The magazine said the project will be directed by British film-maker Julien Temple, who has previously made documentaries about Kinks singer Ray Davies, Joe Strummer of The Clash and The Sex Pistols.
Temple has also directed music videos for the likes of Billy Idol, Blur and Culture Club.
Kravitz, who won Grammys in four consecutive years in the best male rock vocal performance category, played the role of Cinna in the film The Hunger Games, released earlier this year.
He also had a small part in 2009 film Precious and appeared in a 2010 episode of US drama Entourage, alongside Mark Wahlberg.
Previous attempts to make a film about Gaye, Motown Records' top-selling solo artist of the 1960s, have failed due to difficulties in obtaining music rights.
His number one hit Sexual Healing, which was released in 1982, won him his first two Grammy awards the following year.
He was shot dead by his father, Marvin Gaye Sr, following a violent argument between the men in 1984, a day before his 45th birthday.
He is one of several influential artists whose lives are being retold for screen audiences.
In May, Andre 3000 of hip-hop duo OutKast began filming a biopic about guitar legend Jimi Hendrix during his breakthrough in London in 1966 and 1967.
A film about Australian rock star Michael Hutchence, who died 15 years ago, is also in the pipeline, based on a book by the INXS singer's mother and sister.