Two and a Half Men actor apologises for 'filth' claim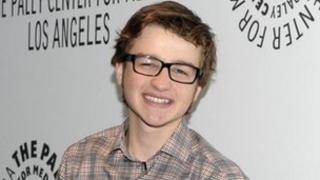 An actor in Two and a Half Men, one of America's most-watched television comedies, has apologised for calling the show "filth".
Earlier this week Angus T Jones urged people not to watch the "very inappropriate" show in a video posted online by a Christian group.
The 19-year-old said its raunchy humour conflicted with his bible studies.
In a statement issued on Tuesday, he said he "never intended" to "disrespect" his colleagues.
"Without qualification, I am grateful to and have the highest regard and respect for all of the wonderful people on Two and a Half Men with whom I have worked and over the past 10 years who have become an extension of my family," Jones said in his statement.
"I apologise if my remarks reflect me showing indifference to and disrespect of my colleagues and a lack of appreciation of the extraordinary opportunity of which I have been blessed. I never intended that."
Jones has appeared in Two and a Half Men since he was 10 as Jake Harper, the underachieving son of the uptight father played by Jon Cryer.
He reportedly earns $350,000 (£218,000) an episode, making him the highest-paid child actor on US television.
In the video posted by the Forerunner Christian Church in California on Monday, where Jones said he sought spiritual guidance, the actor claimed he no longer wanted to take part in the show.
"If you watch Two and a Half Men, please stop watching," he was seen saying. "I'm on Two and a Half Men and I don't want to be on it."
Jones's role in the show has been reduced in recent episodes after his character decided to join the Army.
Both the CBS network and Warner Brothers Television - which makes the comedy - have declined to comment.