Seven Psychopaths: Martin McDonagh follows In Bruges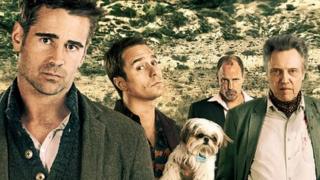 There is something ubiquitous about the number seven as a modern cultural reference - Akira Kurasawa's Seven Samurai and its Hollywood Western remake The Magnificent Seven, Disney's Snow White and the Seven Dwarves, David Fincher's Se7en - based on the seven deadly sins - and, of course, there's always James Bond: 007.
Now, British-Irish director Martin McDonagh's Seven Psychopaths can be added to the list - a blood-splattered tale of violence, revenge and dognapping with lashings of his signature black humour.
Theatre playwright McDonagh, who won an Oscar for his first short film Six Shooter and was nominated for the screenplay to his debut feature In Bruges, gives a rather prosaic explanation for his film's title.
"It was just the alliteration," he says. "It's the first number that's got two syllables, there's something nice about it."
The film, coincidentally released across the UK on 7 December, sees him team up with his In Bruges lead star Colin Farrell again.
However, rather than a guilt-ridden hitman, Farrell is an alcoholic screenwriter battling a case of writer's block. He has the name of his project - Seven Psychopaths - but no idea what to do with it.
Tagging along for the ride are his best friend, out-of-work actor Billy, played by Sam Rockwell and Christopher Walken ("like a god of mine since childhood", says McDonagh) as Hans.
Walken and Rockwell run a profitable scam kidnapping dogs and then returning them to their grateful owners and collecting the rewards.
Things take a turn for the worse when Billy dognaps a Shih Tzu, owned by unhinged crime lord Charlie - played with relish by Woody Harrelson.
Farrell's character's name is Marty, but McDonagh insists it's about the only thing they have in common.
"I've never had the writer's block thing so that aspect of the character isn't me," he says.
"I've had a lazy thing, I'm always lazy. There are elements that are me - the main one is Colin's attempt, even though he knows the film is called Seven Psychopaths, and is about psychos and gangsters, he wants it to end up about love and peace... As crazy as that sounds.
"That is where my starting point was on page one of the script: Can you do both? Have a Hollywood genre gangster film that ends up talking about Buddhism and Gandhi as much as it does bullets and guns?"
The result is mixed. Seven Psychopaths is full of sudden bursts of brutal, graphic violence and a lot of black humour.
Despite Farrell's attempts to tell a "life-affirming" story where "the lead characters just walk away and just talk", the film inevitably builds towards an old-fashioned gangster stand-off.
But McDonagh insists the film still manages to have a pop at more conventional crime thrillers. "There's a through line of trying to set something up that's about violence and trying to taking it to a more interesting, decent place, in the context of a film that's very violent and very bloody and edgy and obeys some of the conventions of a Hollywood gangster film but the end game is more interesting."
With cameos from the likes of singer Tom Waits as a rabbit-wielding serial killer; and Harry Dean Stanton as a vengeful Quaker minister, the cast is dominated by men, with only small roles for former Bond girl Olga Kurylenko and Australian actress Abby Cornish.
Walken even berates Farrell for his failure to write any three-dimensional female characters. Another little dig at Hollywood, for sure, but McDonagh says he also put himself under the microscope.
"In an early version of the script, not all the animals made it though. You would get about a hundred million notes on it and not a single word said about the three or four women who maybe don't come to a happy ending."
By taking aim at Hollywood conventions on sex and violence, McDonagh could be accused of biting the hand that feeds him. He says there's a thin line between having fun and causing trouble.
"They're all quite playful - the things that I dislike about Hollywood and think are ridiculous. You always try not to be smug or smart alecky.
"But you're definitely trying to walk a line and be as near the knuckle with that stuff as you can. It's just a natural impulse to rein it back."
McDonagh is full of praise for his cast, in particular Farrell, more recently seen in blockbuster-style vehicles such as Total Recall.
"He's very subtle - he's like the hero but he's cowardly in places and doesn't know what's going on half the time and it's hard to do because he's playing the audience."
With one Oscar in the bag already and another nomination under his belt, is McDonagh feeling under pressure to get a statue for his new film?
"Its funny, I find none," he says. "Because if you've won an Oscar for your first little short film, you've got an Oscar so you never have to chase it for the rest of your cinematic career.
"So everything after that, like the Bruges nomination, I could just enjoy it. I didn't care about winning, literally.
A writer by trade, McDonagh started out in the theatre, where he won a Critics' Circle Theatre Award for most promising playwright in 1996.
He says his aim is "to keep doing things well, whether it's a play or a film, I don't have that career arc. I have no ambition to make the next Avengers, or do something for a hundred million dollars.
His earliest works often premiered in smaller regional theatres and, at a time when theatres outside of London's bustling West End face a big funding crisis, McDonagh says the government must look at the long-term effects of cuts.
"I wouldn't be here without smaller theatres. My first script I sent to a small theatre in the west of Ireland which happened to have links with the Royal Court.
"Even back then, you could send it to a small theatre and it would be read, even if you didn't have an agent. And if they liked it they'd put it on. That opens the floodgates to talented writers."