Bill Tarmey funeral: Farewell to Coronation Street star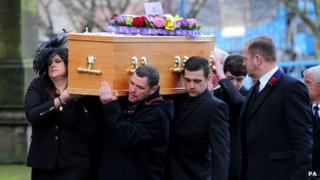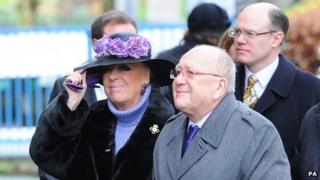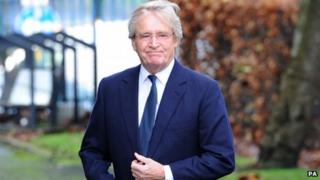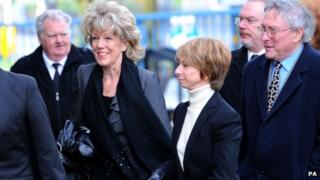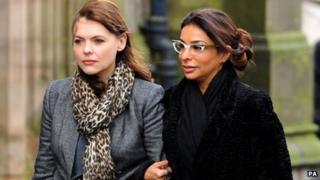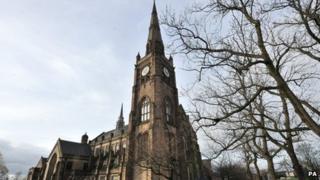 Coronation Street stars and fans have said a final farewell at the funeral of actor Bill Tarmey, who played Jack Duckworth in the ITV soap opera.
Nigel Pivaro, who played his son Terry, paid tribute to the actor during the service.
"Today the world is a little poorer for not having him with us and heaven's a little richer," he said.
"Thank you Bill for living such a wonderful life so fully and sharing it with all of us."
Tarmey was one of the show's best-loved actors for more than 30 years. He left the soap in 2010.
He died earlier this month in Tenerife, Spain, at the age of 71.
The funeral was held at the Albion United Reformed Church in Ashton-under-Lyne, Greater Manchester.
Samia Ghadie, who plays Maria in Coronation Street, also did a reading.
She described Tarmey as "like a surrogate Dad".
"We felt like his other family, he was always there for us and for that we are truly grateful."
She said: "Jack and Vera Duckworth were a truly unforgettable and formidable partnership."
She added that "Jack Duckworth will forever be a Coronation Street legend".
His former co-stars at the service included Liz Dawn - who played his wife Vera - William Roache, Alan Halsall, Jack P Shepherd, Shobna Gulati, Kate Ford, Sue Nicholls and Helen Worth.
Speaking afterwards, Pivaro said: "We'll wait a long time to see somebody of that quality in front of the camera and behind the scenes. He was just a marvellous human being."
Jennie McAlpine, who plays Fiz, said the number of people in the church was testament to his popularity.
"There are not many people who leave that kind of legacy in life," she said.
"The church was full and I know his family are really touched that so many turned out to celebrate his life."
Several dozen fans also listened to the service on loud speakers outside the church.
Kevin Kennedy, who played Curly Watts, said it was a "beautiful" service.
"I can't really be sad because every time I think of Bill, a smile's not far behind," he said.
"It's not how you die, it's how you live and he's left a wonderful legacy. Bill was just a joy and I feel honoured that I knew him and to have called him a friend."
Two of Tarmey's grandchildren, Naomi and Matthew, delivered emotional readings of poems they had written for the occasion.
Tarmey - whose real name was William Cleworth-Piddington - was also a singer and his recording of the track The Wind Beneath My Wings was played during the service.
He was married to his childhood sweetheart Alison for 50 years and they had two children.
In 2010 he published his autobiography, which charted his life from growing up in the slums of Manchester through to working as a singer in local nightclubs before landing a role on the Street in 1979.
Playing the lovable pigeon-fancying rogue, he soon became a stalwart of the soap along with his nagging wife Vera, and their constant bickering was at the heart of the show's trademark mix of humour and drama.
Dawn was written out in 2008 due to ill health. But for Tarmey's final appearance in the soap two years ago, Jack and Vera were reunited one last time when they appeared to dance together as a dying Jack drifted in and out of consciousness.
A life-long heavy smoker, Tarmey suffered a severe heart attack at just 35 while singing on stage and had heart surgery to bypass clogged arteries at 45, having the operation redone 15 years later.
He also suffered from sleep apnoea, a condition that resulted in him jolting awake several times a night due to breathing problems.
As well as suffering ill health himself, Tarmey eventually left Coronation Street to help care for his son Carl, who was battling a brain tumour.
The star's family asked for donations to be sent to the Brain Tumour Research charity, of which Tarmey was a patron.