Casablanca piano goes up for auction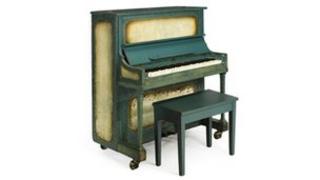 The piano from the Oscar-winning classic Casablanca is to be put under the hammer at Sotheby's on 14 December.
The auction of the 58-key piano, worth an estimated £1.2 million, marks the 70th anniversary of the film.
It features in a flashback scene in Paris at La Belle Aurore where the romance between Humphrey Bogart's character Rick and Ilsa, played by Ingrid Bergman, is established.
The pianist, Sam, plays As Time Goes By on it during the love scene.
A Japanese collector bought the piano for $154,000 in 1988 from auctioneer David Redden at Sotheby's, who will sell it once again next month.
Casablanca has been named the most romantic and quotable movie of all time by the American Film Institute.