British Museum lends ancient 'bill of rights' cylinder to US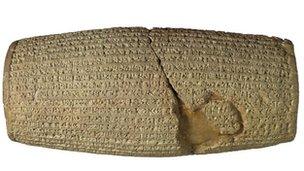 One of the British Museum's most iconic objects, the Cyrus Cylinder, will tour five major museums in the US next year.
The cylinder, often referred to as the first bill of human rights, "must be shared as widely as possible", said museum director Neil MacGregor.
It is inscribed with the earliest form of writing - Babylonian cuneiform.
The cylinder has never been taken to the US before and will tour Washington DC in March, going on to Houston, New York, San Francisco and Los Angeles.
The inscriptions were made on the clay artefact on the orders of the Persian King Cyrus the Great after he captured Babylon in 539BC.
The inscription appears to encourage freedom of worship throughout the Persian Empire and to allow deported people to return to their homelands, according to the museum.
The artefact was found in Babylon, in modern Iraq, in 1879 during a British Museum excavation and has been on display ever since.
'Speak across time and space'
Seen as a symbol of tolerance and respect for different peoples and different faiths, a copy of the cylinder is on display in the United Nations building in New York.
Alireza Rastegar, chairman of the board of trustees of Iran Heritage Foundation America, said: "The Cyrus Cylinder and its message of respect for diversity and universal human rights carries a timely message about tolerance for all of us today."
MacGregor added: "Objects are uniquely able to speak across time and space... I am delighted that it will travel to the US and am hugely grateful to both our US partners and the Iran Heritage Foundation for making this possible."
The exhibition, called, Cyrus Cylinder in Ancient Persia, will feature 16 objects and will showcase innovations under Persian rule in the Ancient Near East between 550 BC and 331 BC.
Hosts include Smithsonian's Arthur M Sackler Gallery in Washington DC, the Museum of Fine Arts in Houston, the Metropolitan Museum of Art in New York, the Asian Art Museum in San Francisco and the J Paul Getty Museum in Los Angeles, where the tour will culminate in October 2013.
The cylinder was previously lent by the museum to the National Museum of Iran in 2010 - 2011, where it was seen by more than one million people.
Related Internet Links
The BBC is not responsible for the content of external sites.