Dallas star Larry Hagman remembered privately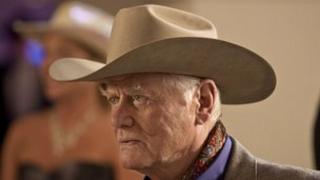 Two private services will take place in Dallas and Los Angeles to remember television actor Larry Hagman, best known for playing J R Ewing in Dallas.
He died on Friday 23 November, aged 81, following complications from cancer.
In 1995, he underwent a transplant after a malignant tumour was found on his liver, three years after he was diagnosed with cirrhosis of the liver.
Season two of the new series of Dallas is currently in production and will be re-written to reflect his death.
John Castonia, the star's personal manager, has revealed the private, invitation-only memorial services this week will celebrate Hagman's life but he would not provide details.
Hagman played a scheming oil tycoon in the TV drama, which first aired in 1978 and was resurrected in the summer, more than 20 years after the original finished.
In the 1980s, Dallas was one of the CBS network's top-rated programmes and was watched by an estimated 300 million people in 57 countries.
It was acknowledged in his biography Hello Darlin' that Hagman was a heavy drinker. In the book he detailed his youthful drug-taking exploits and revealed the extent of his 50-year battle with alcoholism.
A producer and director in television, Hagman also played Major Anthony 'Tony' Nelson in the 1960s sitcom I Dream of Jeannie and supporting roles in numerous films including Fail-Safe, Nixon, and Primary Colors.