Ricky Martin to leave Broadway Evita revival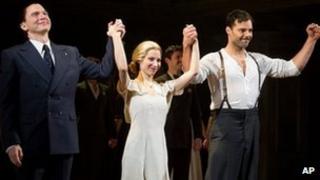 Singer Ricky Martin is to leave the hit Broadway revival of Evita in January after nine months in the role of Che.
Elena Roger will relinquish the title role at the same time, while Michael Cerveris will also give up his role as Juan Peron on 26 January.
Producers of the Tim Rice and Andrew Lloyd Webber musical said the show would continue its open-ended run at New York's Marquis Theatre.
A trio of new stars will be announced at a later date, they added.
Directed by Michael Grandage, the Tony-nominated production opened on 12 March and has broken the theatre's box-office record seven times.
The production is based on the 2006 West End production in which Argentine actress Roger made her debut as the ambitious Eva Peron.
First staged in London in 1978, the musical tells the story of the Argentine icon and her rise from poverty to the presidential mansion.
Latino singer Martin is best known for his five years as a member of Puerto Rican boy band Menudo and for his international 1999 hit Livin' la Vida Loca.