Beryl Bainbridge art to go on show in Liverpool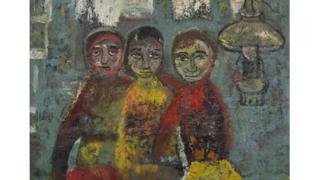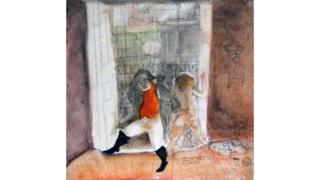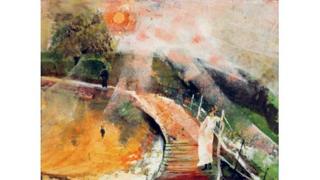 Paintings by the late author Dame Beryl Bainbridge are to go on show in Liverpool next month, with 15 artworks exhibited together for the first time.
Dame Beryl, who died in 2010, was regarded of one of the greatest British novelists of the past 50 years.
She famously never won the Booker Prize despite being nominated five times.
The Museum of Liverpool said it was the first solo exhibition of her art in a national museum and that the paintings showed links with her writing career.
Curator Paul Gallagher said: "Many people are aware of Beryl Bainbridge as one of the UK's best novelists, but she was also an accomplished painter.
"She may not have had any formal training, but Beryl's paintings reveal a vibrant and exuberant style that mirrored her distinctive personality and storytelling technique.
"We feel privileged to be displaying her work in the Museum of Liverpool, celebrating her talents in both literature and art."
Dame Beryl's novels included Injury Time, An Awfully Big Adventure and Master Georgie, which was voted her greatest book in a special Man Booker "Best of Beryl" award after her death.
The writer was born in Liverpool in 1932 and grew up in nearby Formby.
Her paintings include portraits of her children and images of Liverpool as well as subjects that she also explored in fiction, such as the Titanic and Antarctic explorer Captain Scott.
Her friend Psiche Hughes said: "Painting was as much a part of her as her novels, and being able to let people see this side of her is a great testament and celebration of her life and very rewarding for those who knew her."
The exhibition opens on 7 December and runs until 28 April 2013.