Trevor Nunn directs 'Shakespeare musical' Kiss Me, Kate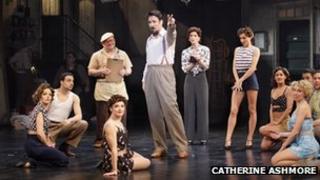 Sir Trevor Nunn's revival of Kiss Me, Kate is the first musical The Old Vic Theatre Company has staged since Kevin Spacey joined as artistic director.
It is a few days before opening night for the Cole Porter musical and the cast are pounding the stage floorboards with an energetic Shakespearean tap routine.
"Kevin believes in popular entertainment as well as demanding entertainment," says Sir Trevor.
"The Old Vic was the home of Shakespeare for decades in this country and it couldn't be a more perfect home for us," he adds.
The production, which first ran at the Chichester Festival Theatre this summer, retains the majority of its ensemble cast, including Hannah Waddingham and Alex Bourne.
The 72-year-old director describes the show as a "Shakespeare musical" mixed with a "considerable ingredient" of on-stage and off-stage antics from Michael Frayn's Noises Off.
A former artistic director of both the Royal Shakespeare Company and the National Theatre, Sir Trevor has directed 30 William Shakespeare plays and 20 musicals including the long-running Les Miserables and Cats.
'Watch this Spacey'
With Kiss Me, Kate about to open, Sir Trevor has hopes he and Spacey might collaborate on a future musical project.
"[Kevin Spacey] and I have talked about music theatre a great deal and there were a couple of occasions where we thought that we might be able to do one together," he says.
"I might be able to inveigle him into a musical show at The Old Vic and I haven't given up on that, so watch this space - or watch this Spacey."
The production allows the director to combine his love of musical theatre and the work of Shakespeare.
His career has balanced both - much like the production - but he says musical theatre has suffered from a history of "pronounced critical snobbery".
"It was regarded as a kind of boulevard entertainment that one couldn't take as seriously," he says.
But he adds his love of the genre means that he has never recognised a barrier between "legitimate" and "illegitimate theatre".
"Those different forms of expression are all made of the same cloth and I love doing both," he says.
Sir Trevor describes Kiss Me, Kate as a "masterpiece" and says the play within a play is one of the great musical works of the 20th Century.
Leading lady Waddingham has high praise for the director's approach to the musical, which was last revived in London in 2001.
"In rehearsals when you're getting notes from people of that calibre - you feel like you should be paying them for the privilege," she says.
'Government shame'
The production first ran at Chichester's Festival Theatre - one of the most successful regional theatres in the UK.
The venue has a solid history of staging West End transfers including Sweeney Todd, Singing in The Rain, South Downs and The Browning Version.
Artistic director Jonathan Church says part of the theatre's success is a direct result of support from the Arts Council and the local authorities a decade ago.
But many regional theatres are now facing cuts from local authorities and the government's grant to the Arts Council has been reduced by 30%.
"The situation of the government deciding that they are going to take money away from the Arts Council has happened repeatedly over the years and it is very sad and I think very shaming," Sir Trevor says.
"So much work has gone on in the regions and it's under threat - I say shame on the government that it should be under threat at this moment," he adds.
But for now he is thankful for the opportunity to direct his regional co-production.
"We are so thrilled to start the show out of town in Chichester and completely thrilled we have a finite run at The Old Vic," he says.
Kiss Me, Kate is at the Old Vic until 3 March.